---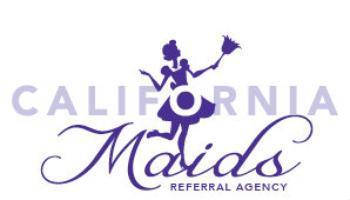 Consumer review sites have been around for nearly 20 years, and most businesses have not only gotten used to them but have stepped up their attempts to provide the best service and merchandise possible.
But there are always a few who don't get the message. Los Angeles City Attorney Mike Feuer says one of them is Steve Yojin Yun, 42, the owner of West Coast Maids and California Maids.
Feuer has filed multiple criminal counts against Yun, accusing him of over-charging the credit cards of customers who wrote negative online reviews about his businesses. 
"Customers have a right to express honest views about a company," said Feuer. "Illegally charging customers as retaliation for expressing their views is outrageous."
If convicted, Yun could face up to seven years in jail and a $7,000 fine. 
"Vulgar, mean ..."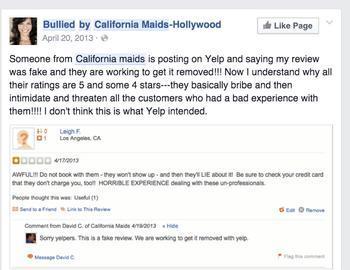 Feuer said the Los Angeles Department of Consumer Affairs opened an investigation after receiving complaints from victims who had booked maid services through Yun's websites.
One victim who went public with her experience was Christine Medrick, who hired one of Yun's companies to clean her apartment in 2013. She was unhappy with the work and complained. A second maid showed up and, says Medrick, also did a poor job. She then posted a complaint on Yelp and soon heard from Yun.
"He offered to refund my credit card if I took down my Yelp review," Medrick said, according to a report in LA Weekly. "I said I wasn't going to do that, because his company does not clean. I said I wanted to warn other people.
"That's when he got really belligerent ... He said a lot of vulgar, mean, offensive things," she alleges. 
Yun also posted a negative Yelp review of his own, against Medrick's company, Pure Brazilian, a cosmetics wholesaler.
Another consumer posted her experience on Facebook, using the name "Bullied by California Maids-Hollywood."
"Someone from California maids is posting on Yelp and saying my review was fake and they are working to get it removed!!!" "Bullied" said. "Now I understand why all their ratings are 5 and some 4 stars -- they basically bribe and then intimidate and threaten all the customers who had a bad experience with them! I don't think this is what Yelp intended."
"Bullied" also said someone placed an ad on Craigslist with her personal phone number, causing her to be harrassed by a constant stream of callers.
"Caught red-handed"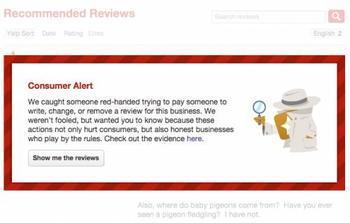 Yelp says it caught the maid services intimidating consumers and issued an alart to its users.
"These are businesses that Yelp caught red-handed involving themselves in shady business tactics back in 2012. Both businesses received a Yelp consumer alert warning anyone that visited their Yelp pages of their deceitful behavior. It's great to see the City Attorney's office continuing to fight for consumer protection in this case," Yelp spokeswoman Kayleigh Winslow told ConsumerAffairs. 
Yelp's Consumer Alert program works to track down people who might be trying to manipulate ratings and reviews. The alerts are posted on affected Yelp listings for 90 days.
"Since the start of the program, our trusty team of investigators have caught hundreds of attempts to artificially inflate ratings through a number of tactics. In 2015 alone, our sleuths have issued 185 consumer alerts. Cheaters beware: our team WILL find you," Yelp said in a recent blog posting.
Los Angeles consumers who believe they are victims of this or similar schemes should can contact Esther Martinez of the Los Angeles Department of Consumer and Business Affairs at (800) 593-8222 or complaints may be filed online. 
---