---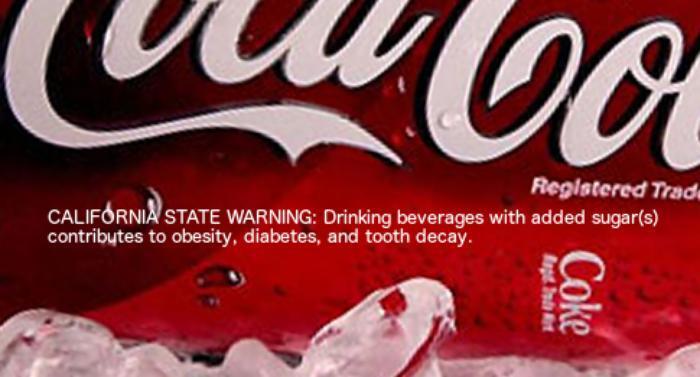 It's hard to find a surface in California that doesn't already have at least one sticker warning that there may be harmful substances nearby but another such warning may be on the way.
The state Senate passed the "Sugar-Sweetened Beverages Safety Warning Act" last week and sent it to the Assembly.
The measure would require that any sweetened non-alcoholic beverage that contains 75 calories or more per 12 fluid ounces be labeled with the words, "Drinking beverages with added sugar(s) contributes to obesity, diabetes, and tooth decay."
The label would not apply to 100% fruit or vegetable juices, dietary aids, infant formulas, or "any beverage whose principal ingredient by weight is milk."
Would anyone actually bother to read the warnings? A survey commissioned by Jamba Juice suggests that they might. The juicemaker released a survey conducted by YouGov that found Americans already suspect that something has been added to the juice they buy.
The survey also found that consumers are looking to nutrition juice labels on soft drinks and juices:
78% read juice labels at least sometimes;

54% read them often or always; and

only 9% never read juice labels.
"Uniquely harmful"
The California bill was introduced in February by state Sen. Bill Monning (D-Carmel) and was co-sponsored by the California Center for Public Health Advocacy (CCPHA), the California Medical Association, the California Black Health Network and the Latino Coalition for a Healthy California.
"This is about the uniquely harmful effects of liquid sugar," CCPHA Executive Director Harold Goldstein said, because scientific evidence points to sugary beverages increasing LDL cholesterol and dramatically raising the amount of fat in the liver.
Diabetes rates have tripled in the past 30 years, and one-fourth of teenagers today have diabetes or prediabetes. And a recent study shows that, of hospitalized Californians, one in three has the disease.
---