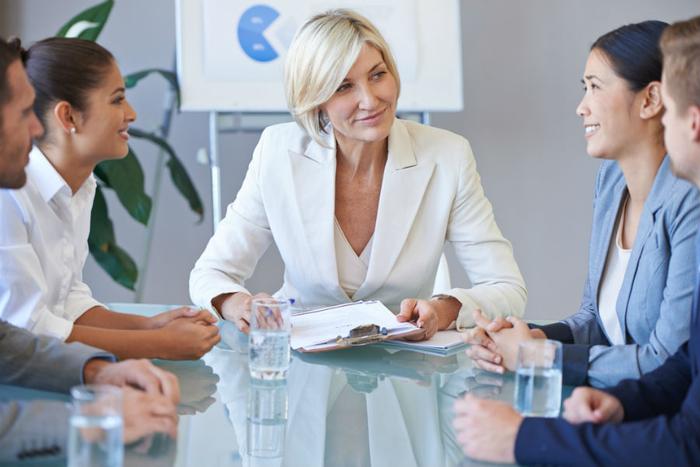 People may disagree over whether corporations count as people, but there's little debate that whatever they are, they tilt decidedly male.
In California, for instance, only 16 percent of people on corporate boards are women. Businesses that are based in the state with the fifth largest economy in the world are now going to have to prepare for some modest changes.
On Sunday, Gov. Jerry Brown signed a new law requiring publicly-traded companies whose primary offices are in California to have at least one woman on their board by the end of 2019.
That quota will go higher depending on how many board members a given company has. By 2021, companies with at least five directors will have to have two women and those with seven will have to have three women. Companies that don't comply will be fined $100,000.
"Given all the special privileges that corporations have enjoyed for so long, it's high time corporate boards include the people who constitute more than half the 'persons' in America," Brown said when signing the law.
Providing more gender balance
State senators Hannah-Beth Jackson and Toni Atkins, who sponsored the bill, said they had tried to encourage corporations to bring on more women with voluntary measures back in 2013, but the gender imbalance has barely changed since then.
The legislation sparked a debate over whether requiring women leadership by law would be insulting and lead to ineffectual "token" positions.
"This is an incredibly emotional topic for both the corporations as well as for women," venture capitalist Jillian Manus told the San Jose Mercury News. "On one hand, I think it's an insult, and on the other it's an advantage."
The California Chamber of Commerce and associations that represent the restaurant industry, the construction industry, the police garage industry, grocery stores, and ambulance companies opposed the measure, claiming that mandates to bring more women on boards would hurt other diversity efforts.
"We are concerned that the mandate…. that focuses only on gender potentially elevates it as a priority over other aspects of diversity," the groups said.  "Our companies are not focused on only one particular classification, but rather all classifications."
But proponents noted that the #MeToo movement has exposed numerous companies and industries for allowing the abuse of female employees and other women. Jackson, the state senator, argued that it was "no coincidence" that disgraced movie producer Harvey Weinstein had no women on the board of his production company.
The new law will also affect Silicon Valley. Facebook's Sheryl Sandberg and Susan Desmond-Hellmann are the only two women on the company's nine-member board. Google and Apple have a respective 11 and eight people on their boards, but each only have two women.