---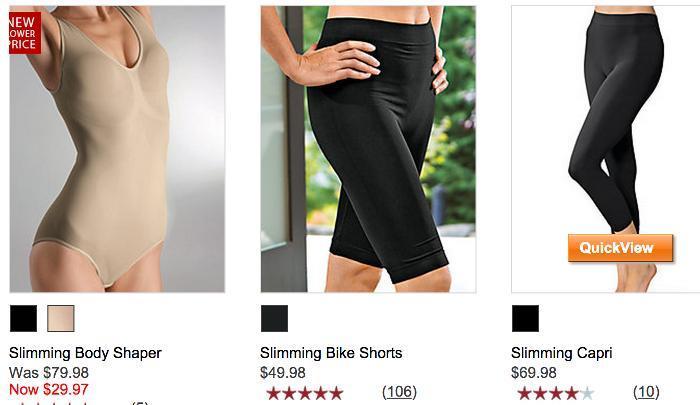 Caffeine is something you drink, right? Well, yes, but according to two lingerie manufacturers, it can also help you lose weight. When you wear it, not when you drink it.
Norm Thompson Outfitters, Inc., and Wacoal America, Inc., have been advertising "shapewear" undergarments that were supposedly "caffeine-infused" and therefore able to melt the pounds right off of you.
The Federal Trade Commission was not impressed by these claims and the companies have now agreed to pay $1.5 million to be used for refunds to consumers who fell for the pitch.
"Caffeine-infused shapewear is the latest 'weight-loss' brew concocted by marketers," said Jessica Rich, Director of the FTC's Bureau of Consumer Protection. "If someone says you can lose weight by wearing the clothes they are selling, steer clear. The best approach is tried and true: diet and exercise."
No effort needed
Specifically, the FTC alleges that the companies made claims that wearing their shapewear would eliminate or substantially reduce cellulite; reduce the wearer's hip measurements by up to two inches and their thigh measurements by one inch; and reduce thigh and hip measurements "without any effort."
The complaint alleges that these claims are not true or substantiated by scientific evidence, and therefore violate the FTC Act.
In the case of Norm Thompson Outfitters, the FTC says the company advertised undergarments infused with microencapsulated caffeine, retinol, and other ingredients, claiming the "shapewear" would slim and reshape the wearer's body and reduce cellulite. The products, made with Lytess brand fabrics, were sold via mail order and on the company's Norm Thompson Outfitters, Sahalie, Body Solutions, and Body*Belle websites.
The complaint against Wacoal America contains similar allegations. It charges that the company's iPants supposedly slimmed the body and reduced cellulite. Specifically, the company made false and unsubstantiated claims that wearing iPants would: substantially reduce cellulite; cause a substantial reduction in the wearer's thigh measurements; and destroy fat cells, resulting in substantial slimming.
The proposed settlement requires Norm Thompson Outfitters and Wacoal America to pay $230,000 and $1.3 million, respectively, that the FTC can use to provide refunds to consumers who bought the caffeinated shapewear.
---