---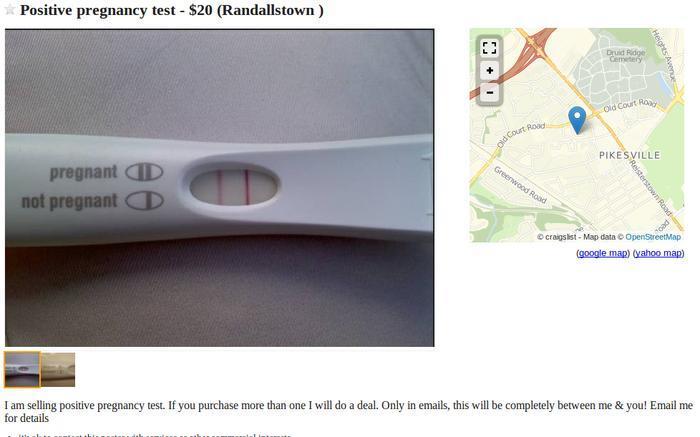 If you hear someone describe a gathering place as "a wretched hive of scum and villainy" it can indicate one of two things: a Star Wars fan quoting what Obi-Wan Kenobi said about Mos Eisley, or anybody else responding to the latest "seedy side of Craigslist" story.
Like this piece by CBS New York, offering an unusually cynical take to the usual pre-Mother's Day media pieces: if you're not a mother-to-be yet want people to think you are, you can buy positive pregnancy tests online!
Granted, the CBS piece relied entirely on anonymous quotes and secondhand information (no surprise that anybody who does buy or sell such things would prefer to remain anonymous): an unnamed mother in Dallas who sold positive tests to a woman hoping to trick her boyfriend into marrying her, another unnamed woman in New Jersey last year, who posted a Cragslist ad offering tests for sale and adding "Wanna get your boyfriend to finally pop the question? Play a trick on mom, dad or one of your friends? I really don't care what you use it for."
Prices vary by location
Interestingly enough, despite Washington, D.C.'s overall reputation for dishonesty, a May 8 search for "pregnancy test" (not even with the added word "positive") on the Washington, DC-area Craigslist yielded only three possibly outdated offers to sell a positive test, specifically for "a prank" or "April Fools," rather than hopes of tricking a man into a fraudulent marriage likely to fail once the expected kid never actually arrives. All three asked for $20, though one offered to arrange a discount for multiple purchases.
By contrast, on the New York City Craigslist boards, positive pregnancy tests were much more commonplace, at a going rate of $35. On the other side of the country, in Los Angeles, prices ranged from $60 to $70.
If you, for whatever reason, are actually tempted to buy somebody else's urine-soaked medical waste, there is no point in shopping around to hunt for bargain prices; your best bet is to completely abandon any plan requiring a false-positive pregnancy test to succeed.
---