---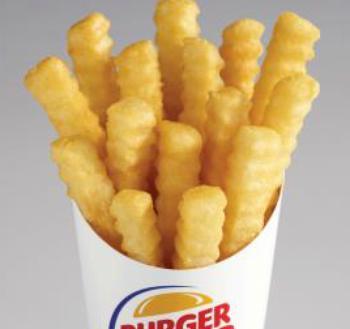 Face it, it's pretty hard to give up French fries. So Burger King is hoping its new lower-calorie fries will find a following.
The company says its new "Satisfries" have 70 fewer calories than a same-sized serving of their regular fries -- 270 compared to 340. The ingredients are the same -- potato, oil and batter.
The difference, Burger King says, is in the batter, which absorbs less oil and, therefore, less fat and fewer calories.
This isn't really a new idea. For decades, food manufacturers have been producing lower-fat, lower-calorie versions of what are basically indulent foods -- ice cream, cookies and so forth.
It's a way of having your cake and eating it too, as the saying goes. BK is hoping to lure customers who want to cut back on calories and fat but don't want to give up the satisfaction of munching on a new crispy French fry.
Burger King isn't saying exactly what it did to the batter, in hopes of staying ahead of the competition for at least a few months.
The new fries have a different shape -- they're crinkle-cut, whereas Burger King's regular fries are straight-edged. The company says the shape has nothing to do with the caloric content; it's just intended to help customers and employees tell which kind of fry they're eating.
---