---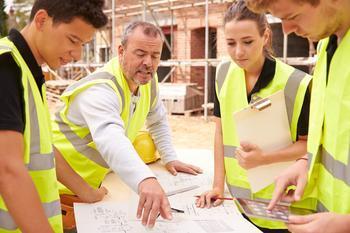 The confidence of builders in the market for new single-family homes moved higher in August.
After posting a downwardly revised reading of 58 in July, the National Association of Home Builders (NAHB)/Wells Fargo Housing Market Index (HMI) was up two points this month to 60.
"Builder confidence remains solid in the aftermath of weak GDP reports that were offset by positive job growth in July," said NAHB Chief Economist Robert Dietz. "Historically low mortgage rates, increased household formations and a firming labor market will help keep housing on an upward path during the rest of the year."
Inside the survey
The HMI, derived from a monthly survey conducted by the NAHB, gauges builder perceptions of current single-family home sales and sales expectations for the next six months as "good," "fair," or "poor." The survey also asks builders to rate traffic of prospective buyers as "high to very high," "average," or "low to very low."
Scores for each component are then used to calculate a seasonally adjusted index where any number over 50 indicates that more builders view conditions as good than poor.
Two of the three components posted gains: The component gauging current sales conditions rose two points to 65, while the index charting sales expectations in the next six months increased one point to 67. The component measuring buyer traffic fell one point to 44.
"New construction and new home sales are on the rise in most areas of the country, and this is helping to boost builder sentiment," said NAHB Chairman Ed Brady.
Looking at the three-month moving averages for regional HMI scores, the South and the Northeast registered two-point upticks to 63 and 41, respectively. The West was unchanged at 69 and the Midwest dropped two points to 55.
---