---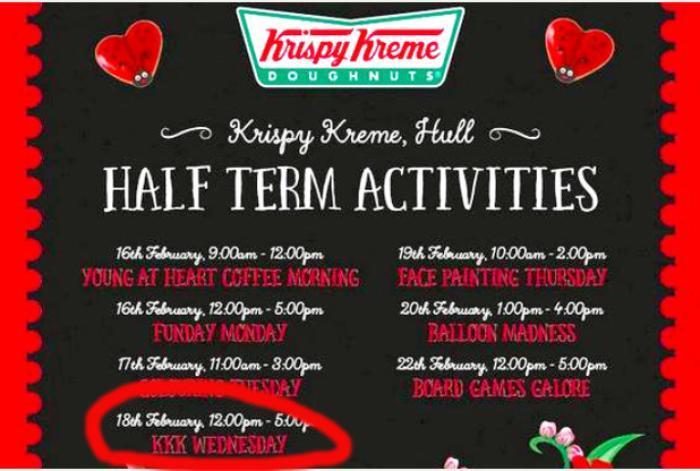 A joking old saying claims that the U.S. and England are "two countries separated by a common language," and this week a hapless donut-shop owner in the U.K. got a hard reminder of just how true that is.
The Krispy Kreme chain has stores in the United Kingdom, including one in the port city of Hull. And this week is a school holiday for students in Britain, so Hull's Krispy Kreme put up a colorful in-store billboard listing various promotional activities intended to appeal to kids, including "Funday Monday," "Colouring Tuesday" and "KKK Wednesday."
The KKK was supposed to stand for Krispy Kreme Klub, and a spokeswoman for the Hull store told her local newspaper, the Hull Daily Mail, that on that day children would get to decorate their own donuts.
Which all sounds very innocuous and wholesome, especially in the East Yorkshire branch of an American donut chain, but in America itself the letters KKK are, of course, associated with the Ku Klux Klan. The Hull Daily Mail explained to its readers that the Klan "was known for violence against African Americans in the 19th and 20th centuries and still exists today."
The store posted on its Facebook page a photo of the advertising billboard listing the week's activities, with KKK Wednesday listed right before Face Painting Thursday. Naturally, the photo almost immedaitely went viral as countless people – some outraged, some amused – all explained the unsavory connotations of KKK.
The store immedaitely took the photo down from its Facebook page, but the damage had already been done. A Krispy Kreme spokesman said that "Krispy Kreme apologises unreservedly for the inappropriate name of a customer promotion at one of our stores. This promotion was never intended to cause offence. All material has been withdrawn and an internal investigation is currently underway."
---