---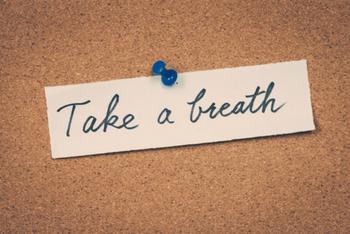 Americans are all too familiar with stress. Work stress, health stress, and even Pinterest stress can creep into our consciousness making it difficult to relax.
Stress is part of being human, of course, but too much of it could take a toll on your physical and emotional health. Symptoms of stress-related tension include headaches, high blood pressure, depression, anxiety, and trouble sleeping.
Now, the very device that may deliver stress-inducing news can also help you relax. Breathe for iPhone guides users through simple breathing exercises with the goal of helping to stave off stress and anxiety. 
Focus on breathing
The goal of Breathe is to shift a user's focus from the stress of the day to the simple act of breathing. But sometimes, mentally changing gears can be a challenge.
If you're among those who finds it difficult to downshift into meditation mode without guidance, the app can help.
Breathe calls itself "an app that shows you how to breathe." It does so via tips and customizable inhale/exhale settings, all of which work together to arm you with the ability to visualize your breathing.
Even those with only a short window of time may benefit from firing up the app. Focusing on your breath for just a few minutes, whether at the beginning of the day or during your morning commute, may help lower your stress level.
And, like a good friend, the app will send you gentle reminders to take deep breaths throughout the rest of your busy day. 
Breathe is available for free on the App Store. For Android users, a similar app called Stop Breathe & Think is available.
---