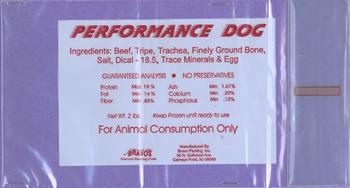 Bravo Packing of Carneys Point, N.J., is recalling all Performance Dog products, a frozen raw pet food.
The products may be contaminated with Salmonella.
No human or animal illnesses have been reported to date.
The recalled products come frozen in 2-pound and 5-pound plastic sleeves with the manufacture date code 071418 printed on the boxes that contain the plastic sleeves, but not on the individual plastic sleeves.
Therefore, if the cardboard box has been discarded, there are no unique identification numbers on the individual sleeves that allow customers to determine that they possess the recalled products.
What to do
If customers purchased these product since July 14, 2018, and cannot determine whether it is affected by the recall, they should discard the product
Consumers with questions may contact Bravo Packing at (856) 299-1044 Monday – Friday from 6:00AM-2:00PM, and on Saturday from 4:00AM-9:00AM EST) or online at www.bravopacking.com.