---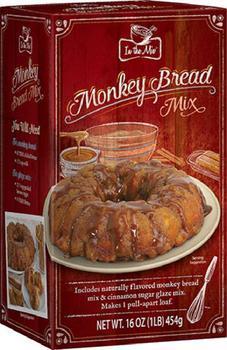 Brand Castle of Bedford Heights, Ohio, is recalling limited quantities of The Mix Monkey Bread Mix.
The product may be contaminated with Salmonella.
There have been no reported illnesses to date.
The recalled product has a UPC code of 8-44527-03278-2 and is packaged in a 16-oz. box with a sticker on the back of the package indicating the below Lot#/Date Code.
It was sold to a single retailer in Alabama, Arkansas, Arizona, California, Colorado, Delaware, Florida, Georgia, Io2wa, Indiana, Illinois, Kansas, Kentucky, Louisiana, Massachusetts, Maryland, Michigan, Minnesotat, Mississippi, Missouri, North Carolina, North Dakota, Nebraska, New Jersey, New Mexico, Nevada, New York, Ohio, Oklahoma, Oregon, Pennsylvania, Soucth carolina, Tennessee, Texas, Utah, Virginia, Washington and Wisconsin.
What to do
Customers who purchased the recalled product should discontinue using it and return it to the retailer for a full refund discard it or contact reach out to Brand Castle with roof of purchase for a full refund.
Consumerswith questions may contact Brand Castle at 216-292-7700, ext.211 Monday through Friday between 8:30 am and 5:30 pm (EST) or by email at marla.fleischer@brandcastle.com.
---