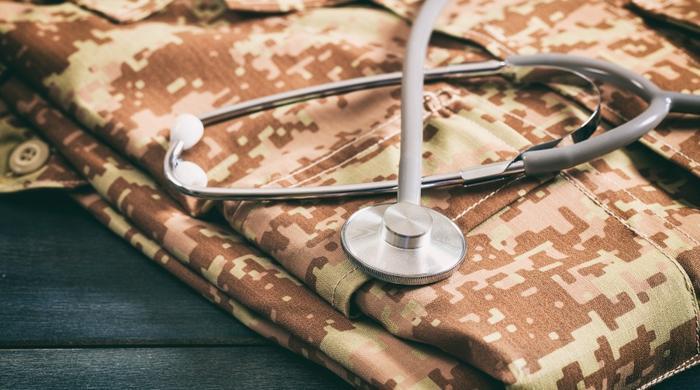 As more and more studies focus on veterans' health post-service, and veterans worry about their health upon returning home, a new study conducted by researchers from Massachusetts General Hospital discovered a new health woe common among those who fought in the Gulf War. 
According to the researchers, veterans struggling with Gulf War Illness (GWI), a chronic disorder that affects Gulf War veterans, were also more likely to experience brain inflammation. The U.S. Department of Veterans Affairs notes that other common symptoms associated with the condition include fatigue, headaches, joint pain, indigestion, insomnia, dizziness, respiratory disorders, and memory problems.
Researcher Zeynab Alshelh, PhD, explained that the inflammation was most common "in the cortical regions, which are involved in 'higher-order' functions, such as memory, concentration, and reasoning. The neuroinflammation looked very similar to the widespread cortical inflammation we detected in fibromyalgia patients," he said. 
Understanding the symptoms
To better understand this neuroinflammation, the researchers compared 15 veterans with GWI to eight veterans without the condition and 25 participants who had no experience in the military. 
All of the participants received PET scans of their brains, which the researchers then evaluated for a molecule known as the translocator protein. When brain inflammation is particularly high, the levels of the translocator protein are also elevated. 
For the participants with no military background and those with no history of GWI, the researchers detected normal brain scans. However, for those with GWI, brain inflammation was particularly high. 
The researchers began looking at other GWI symptoms to better understand why this could be the case and found that many of the symptoms associated with the disorder are similar to fibromyalgia. GWI sufferers can experience chronic pain, memory loss, extreme fatigue, and neuroinflammation. 
The researchers are primarily concerned about this brain inflammation becoming a chronic issue. They hope their findings "help motivate a more aggressive evaluation of neuroinflammation as a potential therapeutic target."