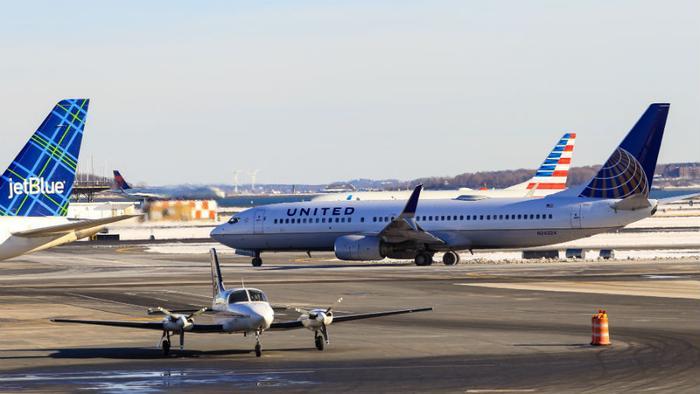 On Wednesday, Boeing revealed a series of steps it is taking to make its 737 Max airplanes safer. Among the changes are software updates to the aircrafts' Maneuvering Characteristics Augmentation System (MCAS), new flight control displays, and additional training for pilots.
Below is a list of the additional layers of protection that Boeing is rolling out:
Flight control systems will now compare inputs from both angle of attack (AOA) sensors on the outside of planes. If the sensors disagree by 5.5 degrees or more with the flaps retracted, MCAS will not activate. An indicator on the flight deck display will alert pilots.

If MCAS is activated in non-normal conditions, it will provide one input for each elevated AOA event.

MCAS can never command more stabilizer input than can be counteracted by the flight crew pulling back on the column. The pilots will continue to always have the ability to override MCAS and manually control the airplane.
The software updates are meant to stop planes from unexpectedly nose diving when the AOA sensors detect too steep of an angle of ascent. Experts have speculated that this issue is what led to the crash of an Ethiopian Airlines flight earlier this month and a Lion Air crash that occurred in October.
Improving safety
The new safety updates provide a much-needed reprieve for Boeing, which has faced backlash in recent weeks. In addition to the two fatal crashes, one Boeing 737 Max aircraft was forced to make an emergency landing earlier this week due to an engine problem.
CNBC reports that news of the updates caused a 1 percent jump in the company's stock in yesterday's trading. The company is assuring the public that the steps it has taken are in coordination with airline regulators.
"The software was put through hundreds of hours of analysis, laboratory testing, verification in a simulator and two test flights, including an in-flight certification test with Federal Aviation Administration (FAA) representatives on board as observers," the company said.
"These updates reduce the crew's workload in non-normal flight situations and prevent erroneous data from causing MCAS activation. We continue to work with the FAA and other regulatory agencies on the certification of the software update."