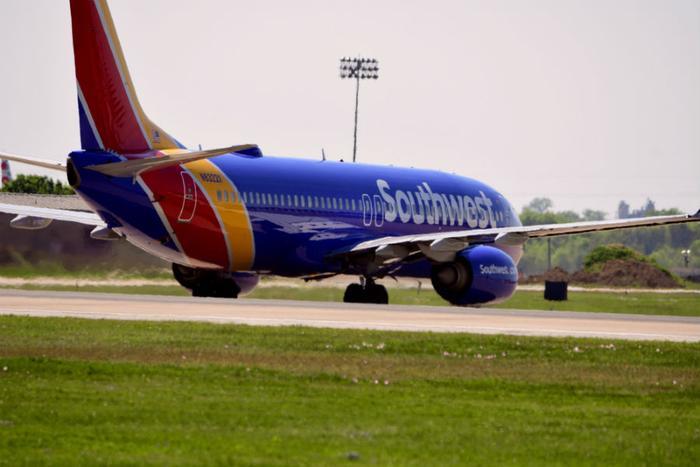 Southwest Airlines, which owns the largest U.S. fleet of grounded Boeing 737 MAX aircraft, was unaware a standard safety feature to warn pilots about malfunctioning sensors had been turned off on those jets.
Boeing did not tell Southwest the alarm, known as a "disagree" monitor, was turned off until after the fatal Lion Air crash of a 737 MAX 8 in October, according to The Wall Street Journal. Five months later another MAX 8, operated by Ethiopian Airlines, crashed on takeoff killing all on board.
In both instances, faulty data from the angle of attack (AOA) sensor is believed to have played a role in the accidents by forcing the planes' nose down during takeoff when the aircraft should have been climbing.
In cases like that, the disagree monitor should light up in the cockpit, alerting the crew that the plane was responding to incorrect information. The AOA disagree light is a working function on all older models of the Boeing 737.
In a statement to CNBC, Southwest said that prior to the Lion Air crash last year it had reason to believe the AOA disagree monitor was operable.
"The manual documentation presented by Boeing at Southwest's MAX entry into service indicated the AOA Disagree Light functioned on the aircraft, similar to the Lights on our NG series," the airline said. "After the Lion Air event, Boeing notified us that the AOA Disagree Lights were inoperable without the optional AOA Indicators on the MAX aircraft."
After receiving that information, Southwest said it took steps to activate the AOA disagree lights on all of its 737 MAX aircraft. Southwest owns 34 of the MAX 8s while American has 24 and United operates 14.
Effect on earnings
Southwest Airlines CEO Gary Kelly cited the grounding of those 34 jets as one reason Southwest's first-quarter earnings fell below last year's. In addition, Kelly said the government shutdown and bitterly cold weather in the first two months of the year were a drag on earnings. Kelly said the grounding could further affect operations throughout 2019.
"We simply don't have a confirmed timeline to share with regard to when the MAX will return to service," Kelly said in a statement. "There have been dates ranging from May to July depending on who is commenting. We have our schedule adjusted through August 5th, and if the aircraft are available to fly earlier, we will use them as additional spares to further enhance the reliability of our scheduled service."