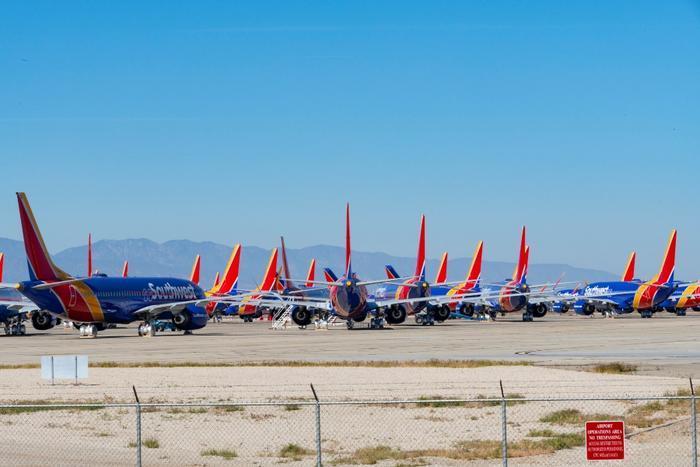 Aviation officials said on Tuesday that Boeing 737 Max jets are still undergoing safety reviews, meaning the aircraft likely won't return to service before November. 
Since being pulled from service in mid-March following two fatal crashes, regulators have been carrying out various safety assessments with the aim of resuming flights as soon as possible. 
Boeing said earlier this year that it's taking a "comprehensive, disciplined approach" to resolving the safety issues, but it repeatedly stated that it hoped the aircraft would be cleared for reintroduction to flight schedules in the fourth quarter. However, U.S. and European Union regulators said this week that they're still in the process of reviewing the revisions made to the aircraft. 
No firm return-to-service date
The Federal Aviation Administration (FAA) said it doesn't have a firm date for completing its review. The agency said it's working closely with other aviation authorities during the safety review process and European Union regulators said they are in "continuous contact" with Boeing and the FAA regarding the matter, according to Reuters. 
"We do not at this stage have any specific concerns resulting from that assessment that would mean that we could not agree to a coordinated return to service. We are in continuous contact with both the FAA and Boeing," a European Union Aviation Safety Agency (EASA) spokeswoman told the publication. 
Implementing software revisions
The two crashes that took place within five months of each other were found to be linked to problems with the flight-control system. Boeing said it will be modifying the software in the aircraft's flight-control system to allow it to receive input from both angle-of-attack sensors in the anti-stall system instead of just one.
The aircraft can't be reintroduced to flight schedules until the FAA reviews a lengthy "final system description" document from Boeing, according to Reuters. Regulators will also need to conduct an "integrated system safety analysis," as well as pilot workload management scenarios.
In May, Acting FAA Administrator Dan Elwell told the Seattle Times that the process "takes as long as it takes" and that the aircraft "will fly again when we have gone through all of the necessary analysis to determine that it is safe to do so."