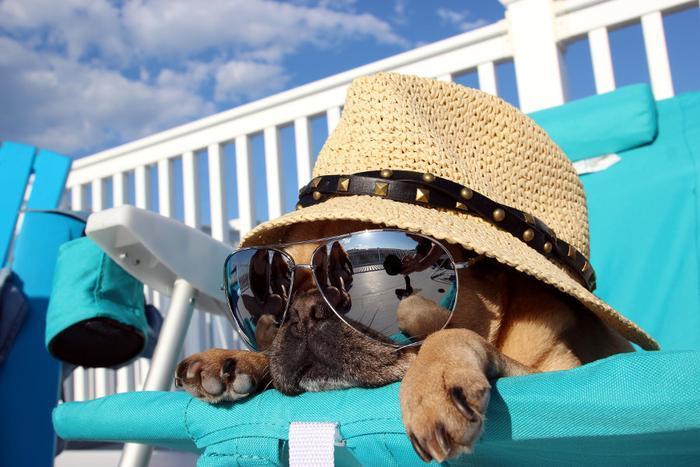 We're not yet fully into the dog days of summer but dogs are already sticking to the sidewalks in the boiling hot Southwest and will soon be doing so in all but the coolest parts of the country.
It's no joke, though -- sidewalks and streets do get hot enough to burn dogs' paws. Before you take your pooch for a walk, experts recommend placing your hand on the street or sidewalk. Does it burn? Then it's too hot. Stay on the grass.
It's not just hot streets. Summertime poses lots of serious health risks for dogs, who generally don't tolerate heat as well as humans and aren't able to tell us when they're getting too hot.
But there is a simple way to protect your dogs from dangerous summer temperatures, says Palm Springs, California, dog trainer Brooke Fagel: leave them at home.
Do your dog a favor
"If you are going to run some errands, and it's 100 degrees outside, and the dog wants to come along in the car, please do him a favor and leave him home," says Fagel. "I say it every summer -- your dog does not have to go everywhere with you."
If, for some reason, you must take your dog with you -- perhaps for a vet visit or to be dropped off at the dog sitter's -- don't ever leave her in the car without air conditioning.
"Even with the windows cracked, that car will heat up fast enough to cause brain damage or death in just a few minutes," Fagel warns.
Swimming in your pool? OK for short periods, assuming the dog knows how to get out of the pool. Sun-bathing at poolside? Not a good idea, says Fagel. Dogs get sunburned too. 
Too hot to fly
Admittedly, Palm Springs is a lot hotter than most places -- 122 degrees yesterday, a record for the date, according to the National Weather Service. In fact, it's been so hot in Phoenix, Palm Springs and other desert cities that many airline flights have been canceled because the hot air doesn't provide enough lift for safe take-offs.
If it's too hot for a jet airplane, says Fagel, it's too hot for your dog. And it's definitely too hot for your dog to ride in the back of your pick-up truck. Fagel offers this unscientific but very reliable test:
"Leave your truck out in the sun for two hours and then go stand in it for 20 minutes in your bare feet (or sit on it with your bare butt!). If it feels hot to you, or it burns the skin right off your body, it feels that way to your dog, too."