---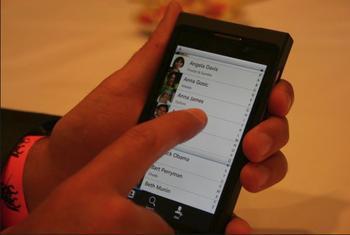 The Blackberry phone was once the first choice of business and professional users and maybe it will be again someday, although it's a little hard to see how.
Blackberry's maker, Research in Motion, today lunched -- or at least revealed -- its new mobile operating system, BlackBerry 10, BB10 for short, and two new smartphones.
Having not learned from the political world to keep it simple, the company also announced it's changing its name from Research In Motion to -- what else? -- Blackberry.
New phones ... soon
Oh, and also it introduced two new phones -- the BlackBerry Z10 and BlackBerry Q10 -- but then said they won't be available in the United States until March or so. You can get them in Canada and the U.K. now, if it means that much to you.
"This is one of the biggest launches in our industry and today is not the finish line, it's the starting line," said CEO Thorsten Heins. Well, actually it's sort of the approach to the starting line, which will be sometime in March.
And why should anyone wade through all this? What's the big selling point that will bring us all running to the nearest cell phone store?
Well, it's a feature called Balance. RIM says it's geared towards professionals who use their devices for personal use and work. Now, by using swipe gestures to switch between "work" and "personal" profiles. RIM says that businesses can keep data secure without forcing employees to carry two mobile devices.
Then there's BlackBerry Flow. This allows users to move among apps by using swipe gestures instead of a home button.
Heins also announced that singer Alicia Keys has been named the company's new Global Creative Director. He said Keys has been in a "long-term relationship" with the BlackBerry.
And as for those new phones, the BlackBerry Z10 is a touchscreen device running on BB10 with a 4.2-inch 1,280 x 768 touchscreen display and front- and rear-facing cameras. With no physical keyboad, it's Blackberry's answer to the iPhone and the many Android big-screen phones.
The BlackBerry Q10 will, in the mode of older BB phones, keep a full QWERTY keyboard.
Both can run 4G LTE and U.S. carriers AT&T, Verizon, Sprint, and T-Mobile all say they will be announcing their pre-registration and price plans today.
The Z10 -- the one without a keyboard -- will cost around $199 with a two-year contract when it becomes available in March.
The Q10? No dates or prices were provided.
---