---

Giving Tuesday -- it's not a shopping day and you won't get a day off of work, but it is a day worth investigating with your family.
According to the website #GivingTuesday is a global day dedicated to giving back. On Tuesday, December 2, 2014, charities, families, businesses, community centers, and students around the world will come together for one common purpose: to celebrate generosity and to give.
It's a day for you and your family as well as businesses to give back and do something for someone else.
They came together in Congress, where U.S. Congresswoman Tulsi Gabbard (D-HI-2) and Congressman Aaron Schock (R-IL-18) introduced H.Res. 761 to recognize #GivingTuesday.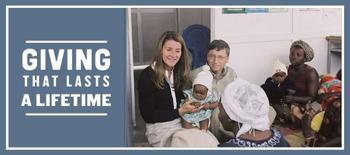 "There are too many things that cause divisions within our communities, but one thing that can bring us together toward a common goal is that of giving to others, and making a positive impact on their lives," said Gabbard. "We should always be looking for opportunities to serve others and give generously of our time and resources to worthy causes. 'Giving Tuesday' is a great way to raise awareness of our responsibility to serve others before ourselves, and give back to our communities. I encourage everyone to embrace these values and the spirit of Giving Tuesday."
This is the third year that Giving Tuesday has been observed. More than 16,000 U.S.-based partners have celebrated the art of giving. It was started in New York by the 92nd Street Y and the United Nations Foundation in 2012 .
There is not a better gift that you can give your kids than teaching them to be empathetic and give of themselves to others. It's not always a thing we give, sometimes it's just a gesture or a helping hand. There are many ways to give but giving them that lesson will have an impact on your kids as individuals and others as well as your family unit as a whole.
Check out their Facebook page or their website and see who is giving and to pick up some ideas for you and your family.
---