---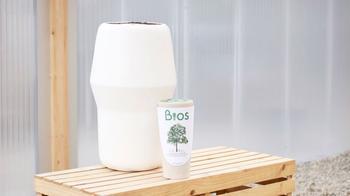 Would you like to have your ashes transformed into a tree? With the "Bios Incube," it's possible. A Kickstarter project is bringing the idea to life with portable 'incubators' that grow into trees.
The Barcelona-based company has already created their biodegradable Bios Urns, but the idea will be taken a step further with the Bios Incube. The Bios Urn is planted inside the Bios Incube to serve as a virtual guarantee that the remains of a departed loved one will grow into a beautiful, thriving tree.
Monitors 'vital signs'
Just fill the incubator with water, and your tree can begin its journey. The Incube's custom sensors monitor temperature, soil health, and sunlight to allow whoever is tending it to track the 'vital signs' of the newborn tree.
The Bios Urn, which is safe for both human and animal cremated remains, houses the ashes while the system monitors the plant's condition. It can also detect dehydration and automatically water the plant if necessary. The tree's condition can be monitored and controlled via smartphone app.
It was also designed to fit into a home's aesthetic. Whether you place your incubator indoors or outdoors, the contemporary-looking white pots will look right at home.
Life after life
The makers of the Bios Incube say it was the idea of converting cemeteries into forests that first inspired the invention of the afterlife incubator. But the ultimate goal of the product goes beyond sustainability.
The average cost of a burial now averages between $7,000 to $10,000. With the innovation, the creators hope to provide an affordable alternative to traditional death care. 
Symbolically, visiting a deceased loved one in the form of a strong, healthy tree might be a little more meaningful to family and friends than a standard urn or cemetery plot. The Kickstarter project has already exceeded its original goal of $66,034; the crowdfunding effort is slated for completion on April 6.
---