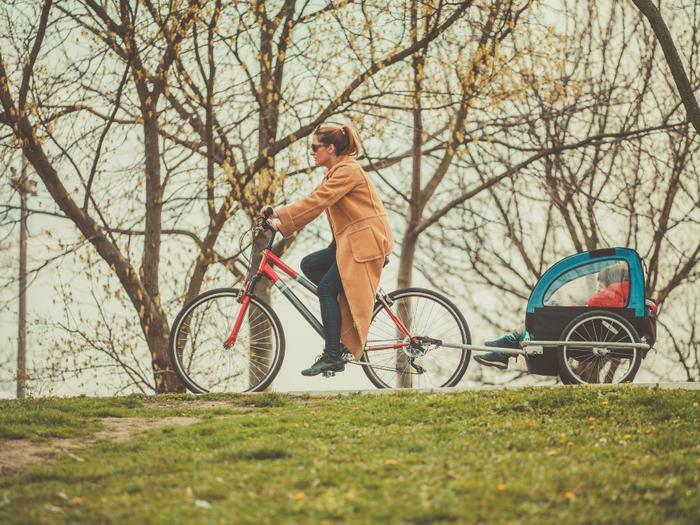 Though recent studies have highlighted the environmental benefits associated with walking or biking, a new study conducted by researchers from the University of Surrey found some risks associated with bike trailers.
Their findings showed that when parents use bike trailers for their kids, they could be exposing their children to higher levels of air pollution. 
"It's unfortunate that the very people who help minimize pollution by cycling rather than driving can be exposing their children to higher levels of pollution, and I'd encourage adults pulling bike trailers to use covers in heavy traffic," said researcher Prashant Kumar. "With the use of electric-assisted cargo bikes growing rapidly in Europe, it's crucial traffic planners ensure road infrastructure is designed to enable safe use of sustainable transport options." 
Keeping kids safe from pollution
The researchers simulated the conditions of an adult riding a bike with a young child sitting in a trailer to understand how air pollution affects kids differently than their parents in these situations. They modeled trips around school drop-off and pick-up times and tracked several different pollutants. 
The researchers found that kids sitting in bike trailers were more susceptible to air pollution than their parents – primarily because of the height of these bike attachments. The study showed that kids were exposed to 14% more pollutants sitting in bike trailers than their parents were on the bikes. 
The researchers also learned that those figures spiked in the afternoon hours compared with the morning. During bike rides home from school, the kids were exposed to nearly 20% more pollutants than their parents. Pollution exposure was also higher for the kids when passing through high-traffic areas. 
To help prevent such high levels of pollution exposure, the researchers recommend that parents get covers for their bike trailers. These protective coverings were found to cut kids' exposure to pollutants in half – especially during times with high traffic. 
Moving forward, the team plans to do more work in this area to better understand how pollution and traffic patterns in different regions can affect kids' exposure when riding in bike trailers.