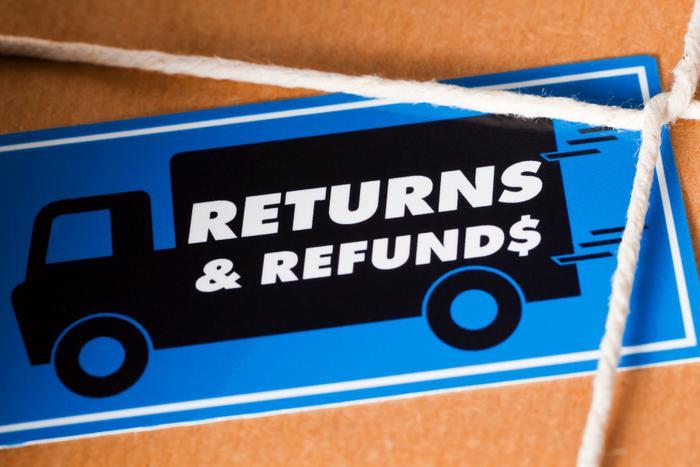 Because of the coronavirus (COVID-19) pandemic, the nation's shipping industry was nearly overwhelmed during the holiday shopping season. Now, many retailers have taken a novel approach to receiving returned items.
In many cases, they're issuing refunds and telling consumers not to bother returning the product. That's because it often costs less to eat the loss than to pay for the return.
Citing data from Narvar, The Wall Street Journal reports that returned purchases jumped 70 percent in 2020 as the pandemic created a huge shift to online purchases. The surge continued into the holiday shopping season, creating a tsunami of returns over the last two weeks.
A big driver of return costs is shipping. If a consumer returns an item to the store where they bought it, the return processing cost is less. But when the product has to be shipped back to the retailer, the costs quickly rise.
A number of larger retailers have apparently determined it's more cost-effective to let the customer keep the item and just issue a refund. According to The Journal report, it can cost as much as $20 to process a return, even before paying for freight on top of that.
How retailers decide
A Walmart spokeswoman told the newspaper that the "keep it" policy primarily covers items it doesn't plan to put back on the shelf and resell. Other factors that go into the decision to write off the purchase is the customer's purchase history, the cost of the item, and the cost of accepting the return.
Target said it employs a similar policy in a small number of cases when it determines it is more efficient to just write a check. It says it urges consumers to donate unwanted items.
Because retailers have not adopted a hard-and-fast rule, consumers won't know whether they will be told to keep the unwanted item until they begin the return process. But in a growing number of cases, they are being told to do so.
Naturally, this trend has not gone unnoticed in the scammer community. Retailers have more narrowly refined their algorithms to detect fraud. The most common tactic criminals have employed so far is to claim the item never arrived and that they are fearful of going to a physical location to ask for a refund because of the pandemic.