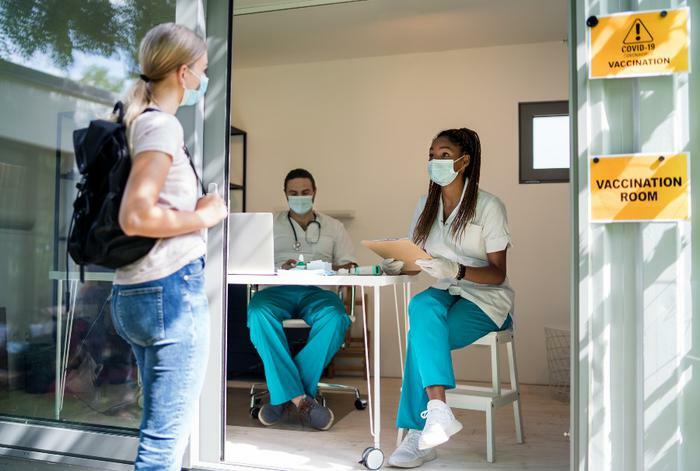 President Biden is urging states to give newly vaccinated people $100 as "an extra incentive" to boost vaccination rates.
In an announcement on Thursday afternoon, the Treasury Department said the action would help curb the spread of the highly contagious Delta variant. The funds would be pulled from the $1.9 trillion American Rescue Plan.
"Treasury stands ready to give technical assistance to state and local governments so that they may use the funds effectively to support increased vaccination in their communities, and Treasury will partner with the Department of Health and Human Services throughout this effort," the agency stated. 
Cases of the highly contagious Delta variant are surging, mainly in parts of the country with low vaccination rates. In the nation as a whole, just under half the population is fully vaccinated. Nearly 70% of Americans have gotten at least one shot. 
'People are dying'
The Delta variant, which spreads more aggressively than the original COVID-19 strain, has officials striking a more urgent tone regarding the importance of vaccination. Health officials, including Dr. Anthony Fauci and CDC director Dr. Rochelle Walensky, have described the current situation as a "pandemic of the unvaccinated." 
"People are dying and will die who don't have to die," President Biden said at the White House on Thursday.
The president said offering a new monetary incentive may seem unfair to Americans who have already gotten inoculated, but boosting vaccination rates will ultimately be of great benefit to the public. 
"I know that paying people to get vaccinated might sound unfair to folks that have gotten vaccinated already but here's the deal: if incentives help us beat this virus, I believe we should use them," Biden said. "We all benefit if we can get more people vaccinated."
Official data has shown that COVID-19 outbreaks are cropping up in areas with low vaccination rates, namely in southern and western regions. Virus-related deaths have risen to around 2,000 per week, and new cases have surged to their highest level in three months. 
Biden's call for monetary motivation to improve vaccination rates comes the same week as the CDC's new mask recommendations. Earlier this week, the agency said fully vaccinated Americans in certain regions should start wearing masks in indoor spaces again.