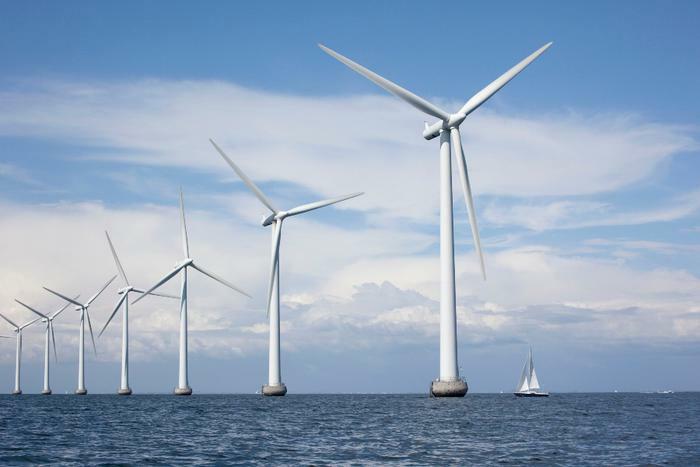 Is the future of energy blowin' in the wind? The Biden administration sure thinks so and has staked a sizable claim on wind as a viable source of power. On Tuesday, the White House decided to lead the charge by giving the go-ahead for the first major offshore wind project in U.S. waters.
The project will be built 12 nautical miles southeast of Martha's Vineyard off the coast of Massachusetts. Officials say it will operate at a level of 800-megawatts -- enough to provide power for 400,000 homes and businesses. Biden's hope is to generate a total of 30 gigawatts of energy from offshore wind by 2030. If 800-megawatts is the standard, then there will be 36 more of these wind farms coming sometime in the future.
"A clean energy future is within our grasp in the United States. The approval of this project is an important step toward advancing the Administration's goals to create good-paying union jobs while combating climate change and powering our nation," said Secretary of the Interior Deb Haaland. "Today is one of many actions we are determined to take to open the doors of economic opportunity to more Americans."
A quick consumer primer on wind energy
Wind energy has never been a big part of most Americans' lives. But the game has changed under Biden's new initiative, and consumers will likely now have questions about wind power. Some of the advantages include:
Cost-effectiveness. The Energy Department claims that wind is one of the lowest-priced energy sources available today, costing 1–2 cents per kilowatt-hour (after the production tax credit). 
How does that stack up against electricity? The latest per kilowatt-hour rates can run 10 times or higher than that. In April, the cost of electricity was 21.62¢ / kWh in Connecticut, 11.37¢ / kWh in Florida, 16.07¢ / kWh in Michigan, and 19.90¢ / kWh in California.
Wind creates jobs. The new Biden project is set to create an additional 3,000 jobs on top of the 100,000+ workers that are already employed in the wind energy sector. According to the Wind Vision Report, this type of energy has the potential to support more than 600,000 jobs in manufacturing, installation, maintenance, and supporting services by 2050.
It's clean and sustainable. One major positive differentiator for wind energy is that it doesn't pollute the air like power plants, which rely on the combustion of fossil fuels like coal or natural gas. Taking that out of the equation could lead to a reduction in human health problems and economic damages. As to sustainability, as long as there's a sun and the Earth continues to rotate, there will be plenty of wind power. 
Concerns about the impact of wind farms
The project had been a heated subject locally, raising questions about the human health impact of infrasound coming from large wind turbines. The fishing industry has expressed its disapproval of the move, saying the project lacks mitigation measures to offset impacts to critical ocean ecosystems and commercial fisheries.
The fishing industry's concerns about wildlife have actually been merited by the U.S. Department of Energy. In discussing the pros and cons of wind power, the agency noted that wind plants can impact local wildlife. 
The agency said that while birds have been killed by flying into spinning turbine blades, that problem has been greatly reduced through technological development or by properly siting wind plants. Bats have also been killed by turbine blades, and there is ongoing research to also reduce the impact of wind turbines on that species.
"Like all energy sources, wind projects can alter the habitat on which they are built, which may alter the suitability of that habitat for certain species," the agency wrote.