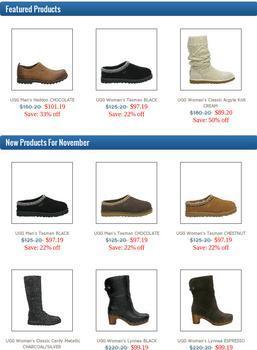 If you're looking to buy boots now that winter is approaching, beware: Jonnette H. from Vancouver, Wash. wrote and warned us to avoid the site womensbootsforcheap.com , unless you're in the market for counterfeit boots in a size and color you don't even want.
Jonnette told us on Nov. 11 that she ordered a pair of Ugg boots off the website because she couldn't find the style and size she wanted elsewhere. So what happened?  "I not only received a style I didn't order, but they are also counterfeit. Dialog with the company got me nowhere fast." In lieu of a refund, she says, the company kept offering her discount coupons for her next purchase (not that she had any intention of making another one).
"I finally gave up," Jonnette told us. "I researched the domain name (something I now know to do before placing an order with unfamiliar sites) and found the registrar to be HICHINA ZHICHENG TECHNOLOGY LTD."
When we visited the boot site ourselves, we immediately used their "Contact Us" feature to write and ask them about Jonnette's allegations; if the company responds to us, we'll let you know.
Alarm bells
Meanwhile, though, some details we noticed about the site set off a few of our anti-scam alarm bells. The entire site apparently is dedicated to selling nothing but Ugg boots—at less than half the price of boots sold on the genuine Ugg website.
Now, it's certainly possible to find legitimate, brand-name clothing items sold at half price or less—if you're shopping in overstock or end-of-season outlets. But legitimate overstock/discount outlets rarely if ever focus exclusively on one company brand, except for outlet-mall stores run by the companies themselves.
We did an online search for reviews about the Womensbootsforcheap site and discovered, among other things, that Scamadvisor.com gave the site a "trust score "of zero percent.
Scamadvisor's generic explanation of how it calculates trust ratings also said: "we looked at many factors, such as the ownership details, location, popularity and other sites relating to reviews, threats, phishing etc. Although a site may have a high trust rating, it's worth just checking the countries involved as these could indicate that goods would be shipped from abroad rather than your home country."
Which happened in Jonnette's case. Not that all foreign imports are automatically suspect (or that all American mail-order companies are legit), but there's no denying that Chinese internet law offers scant protection to American consumers who claim to have been cheated by a Chinese website.
Meanwhile, ProjectHoneypot.org, which tracks IP addresses linked to phishers, content spammers and other untrustworthy Internet characters, listed womensbootsforcheap.com as one of many addresses connected to a content-spamming IP.  
It's unlike Jonnette will get a refund for the money she wasted buying a pair of worthless counterfeit boots, but you can learn from her mistake: if you're tempted to order something from an unfamiliar shopping website, a few minutes of online research can save you a lot of money and aggravation down the road.