---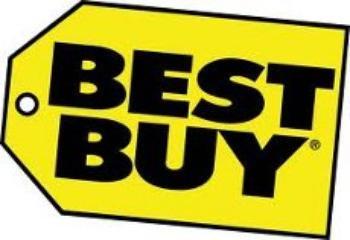 Best Buy has had it up to here with "showrooming" and has thrown down a gauntlet in the form of a low-price guarantee. The electronics chain says it will match the price of any local retailer and 19 major online competitors
"Best Buy is the only retailer to offer a Low Price Guarantee in addition to having a full range of the latest and greatest devices and services, a sales force dedicated to providing impartial and knowledgeable advice and full support for the life of the product," the company said in a prepared statement.
Best Buy said the new policy will apply in all product categories and to "nearly all in-stock products" when it takes effect March 3. Best Buy temporarily matched online competitors' prices during the holiday season.
Hard times
Best Buy hasn't had an easy time of it lately. It closed 50 big box stores last year, lost its chairman and lost market share to Amazon and other online competitors as well as to Walmart and other big box retailers that have been expanding their electronics offerings.
"With a Low Price Guarantee, our customers will have the best of both worlds when they shop BestBuy.com or come to a Best Buy store. They will get unbiased service from our Blue Shirts and support for the life of their product while also knowing they have a Low Price Guarantee on nearly every item," the company said.
The full text of the Low Price Guarantee policy – including exclusions and the list of online retailers included – is as follows:
Best Buy Low Price Guarantee

Online or In Store: Find a Lower Price and We'll Match It

If you find a lower price on a qualifying product at a local retail competitor's store or a designated major online retailer, we will match the price.

At the time of purchase, we will match the current pre-tax price for new, identical, immediately available products from a local retail competitor's store and these designated major online retailers: Amazon.com, Apple.com, Bhphotovideo.com, Buy.com, Crutchfield.com, Dell.com,Frys.com, hhgregg.com, HP.com, HomeDepot.com, Lowes.com, Newegg.com,OfficeDepot.com, OfficeMax.com, Sears.com, Staples.com, Target.com, TigerDirect.comand Walmart.com. We will match prices between our stores and BestBuy.com ®. We will also match prices post purchase if we lower our price within 15 days of your purchase.
The Guarantee is limited to one price match per identical item, per guest and does not apply to: Contract mobile phone devices and plans, the online prices of retailers not listed, the online prices of third party vendors (Marketplace vendors) on designated major online retailers websites, post purchase price match requests to competitor's prices,

Best Buy for Business™, offers that include financing, gift card offers, bundling of items, free items, pricing errors, mail-in offers, coupon offers, competitors' service prices, items that are advertised as limited-quantity, out of stock, open-box, clearance, refurbished/used items, our and our competitor's Deal of the Day, daily deals, special hour sale event items and credit card offers, BestBuy.com Clearance & More and Marketplace items, and items for sale Thanksgiving Day through the Monday after Thanksgiving.
Showrooming, the practice of looking at items in a physical store then going online to make the actual purchase, has been a big worry for consumer electronics stores. Customers showroom electronics items more than any other category, according to data from comScore.
Chris Morran at the Consumerist obtained an internal document from Best Buy that announces the change and has more details. Here's what it says:
Starting March 3, 2013 Best Buy will price match the current pre-tax price for new, identical, immediately available products from local retail competitors and select designated major online retailers at the time of purchase only. (No subsequent price matching of competitors is allowed)
If Best Buy lowers a price on a product (online or in-store) we will allow price-matching up to 15 days following the original purchase. This applies to all customers including Reward Zone Premier Silver members. Please note: After a transition period for Reward Zone Premier Silver members through April 18, 2013, the 15 day period of the Price Match policy goes into effect (post-purchase – Best Buy only).
There has also been one major change to Best Buy's return policy.
The "Return and Exchange" period is being cut in half to 15 days from its previous length of 30 days. All returns will still require a receipt and I.D., plus Reward Zone Premier Silver members will retain their 60-day return eligibility.
---