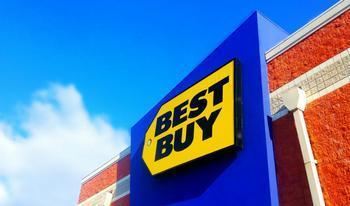 Have you ever bought an item already knowing that you're going to return it within a few days? The practice certainly isn't uncommon when it comes to items like clothing, but a report by Recode shows that Best Buy is trying to get out in front of the trend when it comes to electronics.
The company said that later this month it will be offering customers a "try before you buy" rental option for certain products on its website -- like cameras, audio equipment, and fitness trackers. The program will be carried out through a partnership with a San Francisco-based startup called Lumoid.
Customers who want to take advantage of the program will be able to select the rental option on the product they want to try out, which will take them to Lumoid's site where they can finish the transaction.
While it's unclear how long the rental period will be, reports indicate that renting an Apple Watch can be done for just $50 per week, and that consumers who want to buy an item after trying it out may receive a discount. Customers will also be able to save right away on the rental transaction since 20% of the cost will be reimbursed as Lumoid credit that can be used on other items or to buy the rented item outright.
The partnership could prove to be especially beneficial for Best Buy, who has seen its fair share of losses from frequently returned items; every time a consumer brings back an item, it becomes marked as "open-box" and must be sold at a lower price. By renting out these open-box items, the company might be able to earn more money off them than if they just re-sold them right away.
Officials suspect that many customers will stick to the tried and true method of buying items and returning them when it comes to smaller purchases, but the hope is that the option will be attractive when it comes to big ticket items.