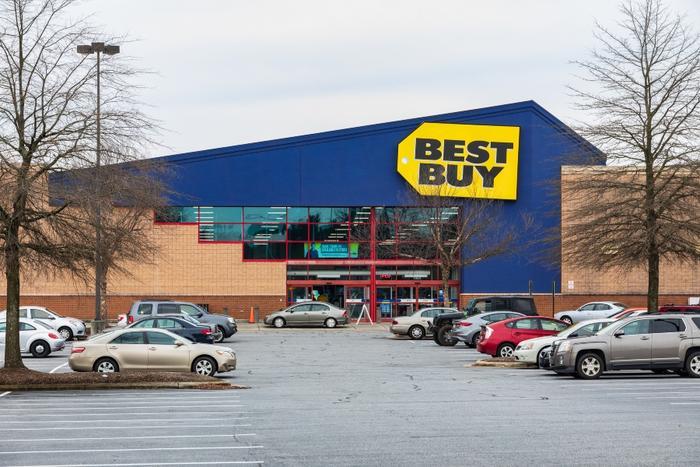 Best Buy has announced plans to begin reopening some of its stores to consumers and has adopted a method of doing so that could serve as a model for other big box retailers.
The company said that it will begin reopening 200 stores by appointment only beginning in early May. Crowded aisles and long checkout lines will be a thing of the past, at least for the foreseeable future.
In a letter to the public, Best Buy CEO Corrie Barry notes that the electronics and appliance retailer has been designated as an "essential" business and has been allowed to remain open in most jurisdictions, though all of its stores are providing curbside pickup only.
"In our view, however, the conversation is now starting to move from what it means to be an 'essential' retailer, to what it means to be a 'safe' retailer," Barry wrote.   
How it will work
When customers are again allowed inside Best Buy stores, Barry says it will be done a few at a time, by appointment. Consumers may make an appointment by calling their local store or going online.
Before the appointment, a Best Buy associate will call the customer to go over the procedures and to make sure they aren't feeling sick. Before customers enter the store, they will go through a check-in process with a store associate, who will explain safety steps and provide hand sanitizer.
As the customer shops, a sales associate will go along while maintaining social distancing. Store associates will wear masks and gloves. After the customer checks out and pays for purchases, all surfaces at the checkout will be cleaned before the next customer checks out. The customer will then be escorted out of the store.
In-home service also resuming
At the same time, Barry said Best Buy will resume in-home services with new safety protocols. 
"Our employees will follow new safety guidelines before, during and after an in-home visit that meet or exceed CDC guidance," Barry wrote in his letter. "These requirements will apply equally to any third party entering your home on our behalf."
Before any in-home service, Best Buy said it will call the customer 24 hours in advance and tell them that the employee is not sick. At the same time, the company will confirm that neither the customer, nor anyone else in the household, is sick.
Best Buy has posted all of its safety procedures for in-home services here.