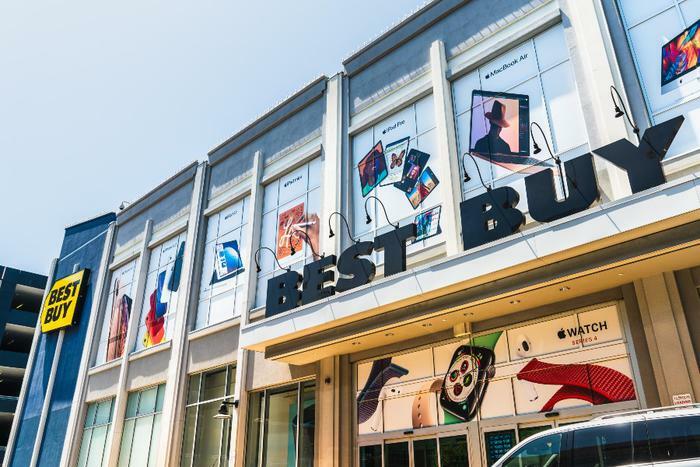 Best Buy has extended its product selection beyond electronics. The retailer announced Tuesday that it has started selling outdoor grills, patio sets, and luggage on its website and at a handful of its 1,000 U.S. stores. 
The consumer electronics retailer said customers will find a collection of Tumi laptop bags and luggage online, as well as Weber grills and other outdoor items. 
The addition of luggage and outdoor items coincides with an increase in travel among consumers, as well as an uptick in home buying. Last month, Best Buy said its sales have reflected an increase in home-related purchases, such as big-screen TVs. 
"Even with the elevated demand we have seen throughout the pandemic, we believe the nesting phenomenon will continue to drive demand for products and services that help customers improve their home experience," CEO Corie Barry said last month on the company's first-quarter earnings call.
Best Buy isn't the only retailer to add to its merchandise in a bid to meet consumers where they are. Lowe's has also added a number of new products -- including outdoor trampolines, small appliances, and exercise equipment -- in response to changing consumer wants. Walmart and Target have used third-party marketplaces as a way to boost online sales and expand into new categories and brands. 
Online sales growth last year
Best Buy said its online sales grew 144% last year. During the pandemic, U.S. consumers went to the retailer's website and loaded up on products like tablets, kitchen appliances, and computer monitors to make working, learning, and cooking at home easier. 
Company executives say they're expecting shoppers to spend more on activities outside the home now that vaccination rates are up. 
"We expect shopping behavior will evolve as customers are able to spend more time on activities like eating out, traveling and other events," Best Buy chief financial officer Matt Bilunas said last month. "It is difficult to know exactly how that impacts our business."