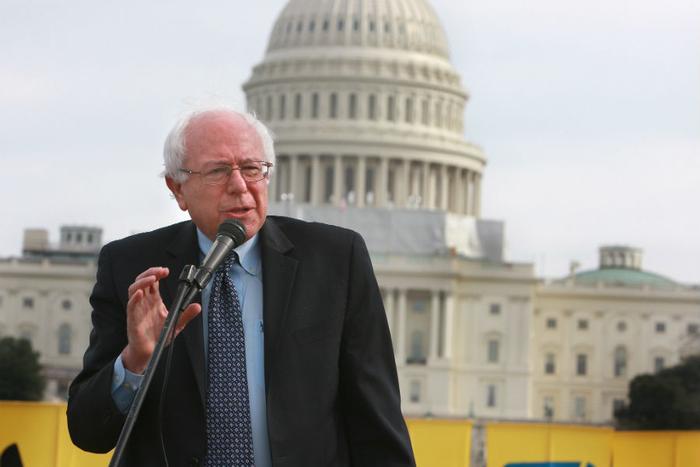 On Monday, Vermont senator and Democratic presidential candidate Bernie Sanders published a tax plan that would involve raising taxes on businesses led by CEOs who make at least 50 times more than their average employee. 
Under the proposal, many U.S. companies would be forced to pay significantly higher annual taxes. Walmart, for example, would have paid up to $793.8 million more in taxes if the plan had been imposed last year, according to the campaign. 
"The American people are sick and tired of corporate CEOs who now make 300 times more than their average employees, while they give themselves huge bonuses and cut back on the healthcare and pension benefits of their employees," Sanders said. "It is time to send a message to corporate America: If you do not end your greed and corruption, we will end it for you."
Sending a message to large corporations
Sanders said the plan would apply to all private and public companies with annual revenues of more than $100 million. The estimated $150 billion the plan would raise over the next decade would go towards eliminating U.S. medical debt.
"The revenue generated from this income inequality tax will be used to pay for Bernie's plan to eliminate medical debt," Sanders said. "But the goal of this income inequality tax is not just to raise more revenue. It is to send a message to corporate America: stop paying your workers inadequate wages while CEOs make outrageous compensation packages." 
Sanders says the public wants the nation's largest companies to "pay their fair share of taxes."
"The American people want corporations to invest in their workers, not just dividends, stock buybacks and outrageous compensation packages to their executives," Sanders said of the proposal. "That's what this plan is all about." 
The presidential hopeful has taken aim at large corporations before. Last September, he introduced a bill that would tax companies like Walmart, McDonald's, and American Airlines an amount equivalent to the value of the government benefits their workers are forced to rely on. He also successfully lobbied for Amazon to raise its minimum wage.