---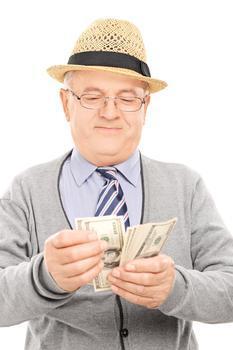 On the surface at least, the October employment report, released on Friday, looked pretty good. Job creation for the month was a respectable 214,000. The unemployment rate fell to 5.8%, the lowest it has been since before the financial crisis.
When you look at what these jobs pay, however, the results are not all that impressive. Economists have worried that, while the economy is growing, wages are not. If consumers can't afford to increase their purchasing power, there's less fuel to grow the economy.
The job growth in October occurred largely in traditionally low-wage sectors. Food services and drinking places added 42,000 jobs while retail added 27,000. Higher-paying jobs like manufacturing added 15,000 jobs.
Familiar pattern
In an interview with Yahoo Finance, Dan Alpert, Managing Director of Westwood Capital, says we've seen this before.
"When you go back to 2013, some 58% of all the jobs that we've created are in the very low wage sector," he said. "Those low wage sectors are retail, temp work, social assistance and leisure and hospitality. And combined those sectors do just a little more than 50% of all the other sector in terms of wages."
Women rebound faster
But when it comes to regaining lost jobs, women appear to be doing better than men. The Institute for Women's Policy Research (IWPR) has analyzed Friday's employment report and has found that the total number of jobs lost in the recession has now been recovered.
However, it says men are down 71,000 jobs from the number they held at the start of the recession. In October, men gained 87,000 jobs while women gained 127,000. Women now hold 50% more jobs than they did at the start of the economic downturn.
The unemployment rate is based on the percentage of the population actively looking for work. If you aren't looking you aren't counted. Increasingly, economists have worried about the number of people no longer participating in the work force.
In October, the overall labor force participation rate increased slightly to 62.8% from 62.7% in September. Here again, that's largely due to women.
Fewer men participating
More women joined the labor force last month while more men dropped out. While women's participation rose slightly, men saw a rather dramatic drop of 4 percentage points from the start of the Great Recession.
"The economy is consistently adding over 200,000 jobs each month, but the recovery for men has remained painfully slow," said IWPR President Heidi Hartmann. "Working women continue to be the engine behind the economic recovery."
IWPR found that without women's strong presence in a few growing industries, women would have fared much worse in comparison to men than they did in the recovery. Men added more jobs in more sectors but where women were in the lead – sectors like education and health care – they lead by a lot.
The analysis also takes a close look at wages. It finds growth is not just limited to traditional low wage jobs but says most of the growth has come in what it calls mid-level wages, such as professional and business services.
It agrees, however, that job growth has been much slower in higher paying sectorsm such as information technology, financial services and government.
---