---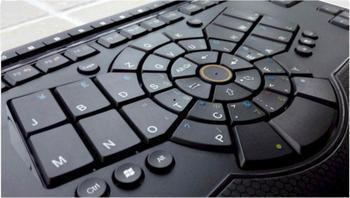 Tech-savvy consumers around the world are always anticipating the newest advancements that will change how they use a computer. While operating systems and software are frequently being improved upon, computer hardware, such as mice and keyboards, has remained relatively the same.
Now, tech company BeeRaider is releasing two keyboards using its own unique design. Unlike most current keyboards, which line keys into a few horizontal rows, these new products will have keys displayed in a radial fashion.
The company touts the new design as being "logical, ergonomic and compact – a keyboard for the 21st century."
Optimized design
The two keyboards being released differ primarily in the layout of the keys in the radial design. One of them uses the QWERTY format that we've all grown used to over the years. However, the second design uses an alpha-character layout that completely rearranges the order.
By rearranging the keys according to the frequency they are used in the English language, the company says it can help users increase their typing speed and optimize data input. They claim that consumers who are worried that they can't adapt to a new arrangement have little to fear. Company officials say that the new design is intended for novice keyboard users and can be memorized in as little as 10-20 minutes.
BeeRaider is releasing these new products as keyboard and mouse combo sets that are meant to be used primarily with WinTel computers -- not Macs, in other words. The first 1,000 sets sold will be featured with distinctive markings and come at a 20% discount, so those wanting a special deal will have to order early. The sets will be priced at $119.99 for the optimized, alpha-character keyboard and $111.99 for the QWERTY version.
You can browse the products and learn more about the designs by visiting the company's site here.
---