---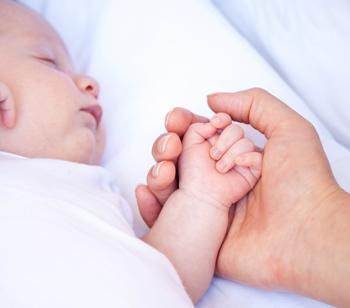 Things change from one generation to the next. Take dogs. It's become increasingly common for dog owners to share their beds with their dogs. So it's only logical that babies would be next.
Although statistics are slim, bed-sharing seems to be catching on, driven by celebrities like Angelina Jolie, who said in a recent Redbook article that she and her husband Brad Pitt sleep with all six of their children. One recent study found that 45% of parents had brought their baby into their bed in the previous eight months, even though experts advise against it because it's far too easy for the baby to be squashed or suffocated by its sleeping parents.
A recent victim of the practice was a baby who died in Battle Creek, Mich., last week. Health officials there say it was the 12th bed-sharing death in the county in the past five years -- deaths they say are 100% preventable.
A public health official told Battle Creek's WMMT-TV most parents know better but are just too exhausted to deal with babies who won't go the sleep: "If that's the only way you can get the baby to sleep, holding them and having them in bed, that's what they do to survive," said Michelle Datema, a nursing family partnership manager for the Calhoun County Health Department.
By the way, the term "cosleepiing" is increasingly being thrown around but experts say it can cause misunderstanding. They prefer to use "bed-sharing" and "room-sharing" -- either of which could be called "cosleepiing." One is dangerous, the other is the safest arrangement, pediatricians say.
SIDS risk rises
Besides the risk of being smothered, researchers say that bed-sharing babies are more prone to SIDS -- Sudden Infant Death Syndrome. A recent British study found that babies who share a bed with their mothers are up to five times more likely to die than those who sleep separately.
The comprehensive review by researchers at Birmingham City University compiled data from five previous studies to examine about 1,500 cases of SIDS, and found that an estimated 88% of the deaths would not have happened if the baby had not been in the parents' bed.
Besides the heightened SIDS risk, the study confirmed that bed-sharing babies were likely to be squashed or to wriggle under the covers and die from suffocation or from becoming overheated, said Alison Edwards, a senior lecturer in midwifery at the university.
Advocates of the practice say that bed-sharing encourages breastfeeding, helps babies fall asleep more easily and helps parents bond with their new infant.
But those arguments don't outweigh the risks, according to the U.S. Consumer Product Safety Commission (CPSC), which warns against the practice, as does the American Academy of Pediatrics (AAP).
Bed-sharing vs. room-sleeping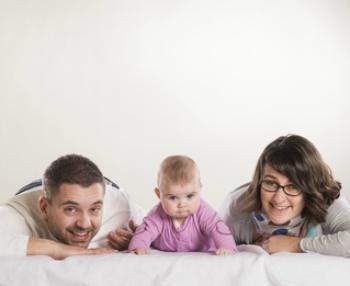 Instead of bed-sharing, the AAP recommends room-sharing -- putting the baby's crib in the same room as the parents'.
"The AAP recommends the arrangement of room-sharing without bed-sharing, or having the infant sleep in the parents' room but on a separate sleep surface (crib or similar surface) close to the parents' bed. There is evidence that this arrangement decreases the risk of SIDS by as much as 50% and is safer than bed-sharing or solitary sleeping (when the infant is in a separate room)," an AAP task force said in a research report published in October 2011.
"In addition, this arrangement is most likely to prevent suffocation, strangulation, and entrapment, which may occur when the infant is sleeping in the adult bed. Furthermore, room-sharing without bed-sharing allows close proximity to the infant, which facilitates feeding, comforting, and monitoring of the infant," the researchers said.
Particularly dangerous is bed-sharing with parents who smoke, since exposure to second-hand smoke and tobacco residue is a risk factor for SIDS. Parents who use alcohol or drugs prior to bedtime also make very unsafe sleeping partners as they are less likely to wake up if the infant gets into trouble, the task force said.
Dangerous gadgets
The AAP also warned against gadgets that claim to make bed-sharing safer.
"There is no evidence that devices marketed to make bed-sharing 'safe' (eg, in-bed cosleepers) reduce the risk of SIDS or suffocation or are safe. Such devices, therefore, are not recommended," AAP said.
---