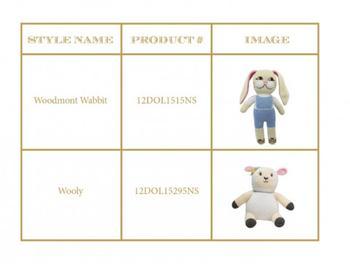 The Beaufort Bonnet Company of Lexington, Ky., is recalling about 4,500 handmade knit dolls.
A sewing needle was discovered in the stuffing of one of the dolls, posing a puncture injury hazard.
The firm has received one report of a sewing needle found in the stuffing of a doll. No injuries have been reported.
This recall includes stuffed knit doll toys styled and named according to animal themes.
Knit dolls sold under the following style names have been recalled:
Style Name
Drayton Hall Hare
Ellie Mae the Cat
Frat E. Fox
Giftmore the Mouse
Gull to Bed
Iwant A. Hippopotamus
Imma Bunny
King Charles Wooford
Lady Lullaby
Lily Pad Prince
Lionel the Lion
McDuffie the Duck
Morris Mallard
P. Nutt
Pudge the Pig
Shellebrate
Sill E. Goose
Ted E. Bearington
Waldorf Wabbit
Waverly Wabbit
Woodmont Wabbit
Wooly
The dolls, manufactured in Peru, were sold at specialty stores nationwide and online at www.thebeaufortbonnetcompany.com from September 2016, through August 2019, for about $40 to $65.
What to do
Consumers should immediately stop using the knit dolls and contact The Beaufort Bonnet Company to receive a full refund in the form of a gift card.
Consumers may contact The Beaufort Bonnet Company toll-free at (833) 964-1456 between 8:30 a.m. and 5 p.m. (ET) Monday through Friday; by email at info@beaufortbonnetco.com; or online at www.thebeaufortbonnetcompany.com and click on "Voluntary Product Safety Recall" at the bottom of the page for more information.