---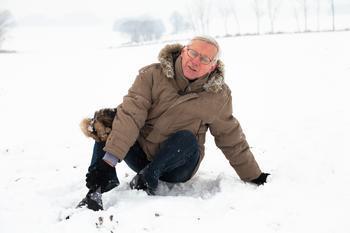 If you're over 65, there's a pretty good chance you could take a tumble that'll land you in the hospital.
According to the Centers for Disease Control and Prevention (CDC), one out of three adults age 65 and older falls each year with producing everything from minor injuries to severe trauma that may even result in death.
"We see so many cases of people who appear to have a minor fall that result in a significant injury," said Dr. Andrew Sama, president of the American College of Emergency Physicians. "The older you get the more vulnerable you are. The good thing is -- many of these falls are preventable if you take action now."
Falls in the millions
In 2010, 2.3 million nonfatal fall injuries among older adults were treated in emergency departments with more than 662,000 of these patients being hospitalized, according to the CDC.
Twenty to thirty percent of people who fall suffer moderate to severe injuries. They may include hip fractures, head trauma and lacerations.

Falls are the most common cause of traumatic brain injuries.

Most fractures among older adults are caused by falls.

Over 95% of hip fractures in the United States are caused by falls.
Preventing falls
There are numerous things that can be done to prevent falls -- especially for older people.
Reduce the number of tripping hazards around your house. Keep loose objects off floors, position furniture in way that you have a lot of walking space and make sure your flooring has a lot of traction.

Add grip bars in a tub or shower and next to toilets or any area where you would be more vulnerable to falls.

Improve lighting in and around your home -- illuminating hard to see areas.

Have your eyes examined by a doctor at least once a year and update your eyeglasses as needed.

Exercise regularly, focusing on increasing leg strength.

If you have dizzy spells, see your physician and ask what you can do or perhaps what medications to take in order to reduce them.
---