---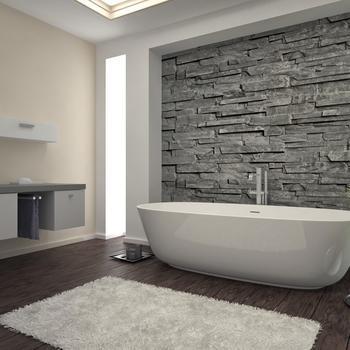 From getting rid of traces of pets to clearing away the clutter, there are quite a few things sellers can do to prepare their home for showings and open houses. Sprucing up your home before putting it on the market can boost its value and help it sell more quickly.
But it's important to keep design trends in mind when making improvements, especially in bathrooms. Outdated bathrooms can deter would-be buyers and make it more difficult to sell your home.
"For some buyers, the bathroom is a deal breaker," the experts at Realtor.com explain. "So if your listing includes these fading bathroom trends, you might have a harder time selling it."
Trends to avoid
To appeal to the widest range of buyers, Realtor.com suggests steering clear of the following bathroom trends.
Oversized tubs. Big bathtubs are often seen as impractical in the eyes of buyers. Sellers would be better off investing in a quality water-saving shower.
White-on-white. Light colors might make a space feel larger, but sellers should avoid going all-white in bathrooms. Not all buyers may be up to the task of keeping white tile and flooring clean. Instead of pristine white, go for a varied color design. 
Tacky colors. Funky colors like mustard, salmon, and avocado can also be a turn-off to potential buyers, says Realtor.com. Keep your color scheme tame by using a mix of three timeless, muted colors in a 70/20/10 distribution. Use the lightest color for 70% of the room, the second lightest for 20%, and the boldest for 10%.
Subway tile and nickel finishes. Subway tile and cool finishes, such as nickel and chrome, are fading in popularity, according to design experts. But modern-looking brushed gold and black finishes are growing in popularity. Large format and geometric tiles are also a safe bet.
Details to improve
Improving your bathroom doesn't have to entail flushing money away. Some projects can be accomplished on a relatively modest budget.
A quick change of hardware, for example, can instantly make your bathroom appear more fresh and modern. Consider swapping outdated faucet handles, towel racks, and light fixtures for new ones that are in line with current trends.
"For resale, focus on the visuals: nice tile, nice colors, nice fixtures -- and don't spend a lot on the high-end utilities because most people can't tell the difference," Cameron Snyder, president of Roomscapes Luxury Design Center told HGTV.com.
For cabinets, opt for simple knobs and handles to ensure your space doesn't feel too crowded. If upgrading your light fixtures, consider adding task lighting around your vanity. Two wall-mounted lights on either side of your vanity can enhance the look of your space and help eliminate unflattering shadows.
---