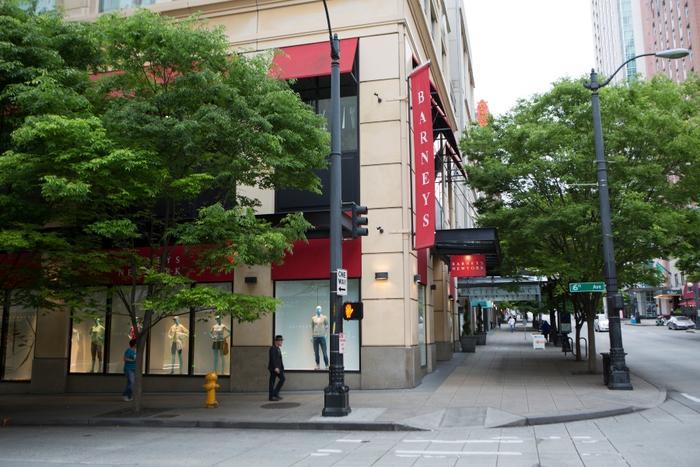 It turns out that high-end retailers aren't immune to the retail apocalypse. Barneys New York has filed for Chapter 11 bankruptcy protection and announced moves to shrink its footprint as it tries to find a buyer.
It joins Sears, Payless, and Toys R Us, all of which recently sought shelter under bankruptcy and closed some or all of their stores.
In its announcement, the company said it plans to close 15 of its 22 stores as it reorganizes and markets to consumers who have an eye on value as well as quality. Barneys will close stores in Chicago, Las Vegas, and Seattle, along with five smaller concept stores and seven Barneys Warehouse locations.
It will continue to operate its five flagship locations: Madison Avenue, New York; Beverly Hills; San Francisco; and Copley Place in Boston. It will also continue to operate two Barneys Warehouse locations, including Woodbury Commons and Livermore. The retailer's online operations are not affected.
'Dramatically impacted'
"Like many in our industry, Barneys New York's financial position has been dramatically impacted by the challenging retail environment and rent structures that are excessively high relative to market demand," said Barneys New York CEO Daniella Vitale.
Vitale says the move will give the company the necessary tools to conduct a sale process, review leases, and optimize operations.
"While doing that, we are receiving new capital to help support the business," she said.
Along with the bankruptcy announcement, Barneys said it has secured $75 million in new capital to facilitate the sale process as it seeks a buyer. The company said it plans to use the court-supervised process to "consider all value enhancing transactions."
Special problems
While Barneys has faced some of the same challenges as other retailers, it has also encountered special problems. Its store locations tend to be among the most expensive retail real estate in the nation and carry premium rents.
Store closings picked up momentum in the first half of 2019. A report in July from Coresight Research showed store closings -- including announcements -- were up 20 percent over all of last year. 
The researchers estimate that at least 7,000 stores will close their doors this year, with thousands of others already dark and deserted. Payless ShoeSource makes up nearly 40 percent of the store closings. 
"So far this year, US retailers have announced 7,062 store closures and 3,017 store openings," the research company wrote in its report. "This compares to 5,864 closures and 3,258 openings for the full year 2018."