---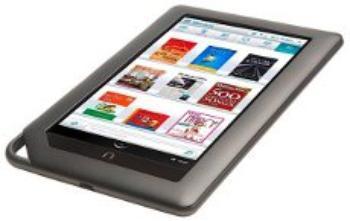 Did it ever seem like a good idea for struggling book retailer Barnes & Noble to go head-to-head against Apple, Amazon, Google and other rich and powerful technology companies?
Maybe it did to someone but, as Bill Clinton might say, a little arithmetic shows otherwise. So now, BN says it will stop making the color Nook e-reader and will sell co-branded devices made by others while continuing to make its own black-and-white Nook.
The company says the Nook losses have wiped out the profits the company managed to eke out of its book retailing business. Nooks have been losing ground all around, losing market share while the size of the overall e-reader market declines.
After all, most people who want an e-reader already have one or more. More significantly, most folks are occasional readers who can do all the reading they can stand on their iPad or other tablet or smartphone.
While there will no doubt be those who see this as bad news for the book business, we know of quite a few Nook owners who will not be sorry to learn of the devices' demise.
"The Nook keeps telling me to go to an area with WiFi when I try to download books in my library but is sufficiently connected to sell me a new book! Weird," said Alan of Crowborough, England in a ConsumerAffairs posting. "I have tried to de-register and reload but now it's completely locked. I am waiting for Nook customer service to suggest what to do. The Nook app on my iPad works fine. It's the Nook that is the problem. Really wish I'd gotten a Kindle instead."
"My Nook Color will not charge past 19%," said Brandy of Charlotte, N.C. "I've replaced the charger twice in less than a year. I was told since it was over one year old, I had to pay $60 for a refurbished Nook or $85 for a new one. I've decided on a new reader from a different manufacturer. My sister had the same problem with her Nook Color. We're both shopping elsewhere."
The Nook news was sort of tucked into Barnes & Noble's financial results, which showed that for the quarter, Nook revenues dropped by 34% to $108 million as device sales fell. And for fiscal 2013, Nook revenues declined by 16.8% to $776 million.
The slow nook sales also dragged down sales of music, books and other digital content, which was down 8.9% for the quarter.
---