---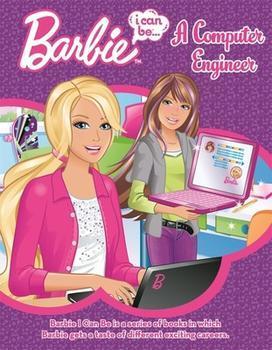 When gift-giving time rolls around I always avoid buying Barbie-themed stuff for any of the little girls in my life, and this latest facepalmer from Mattel explains why.
Barbie's book I Can Be A Computer Engineer, one of many offerings in the I Can Be … series, teaches little girls that they can indeed work with computers when they grow up – provided there's boys around to help them handle the hard stuff:
At breakfast one morning, Barbie is already hard at work on her laptop.

"What are you doing, Barbie?" asks Skipper.

"I'm designing a game that shows kids how computers work," explains Barbie. "You can make a robot puppy do cute tricks by matching up colored blocks!"

"Your robot puppy is so sweet," says Skipper. "Can I play your game?"

"I'm only creating the design ideas," Barbie says, laughing. "I'll need Steven and Brian's help to turn it into a real game!"
Tee hee. It gets worse: read on, and discover that Barbie the supposed computer expert can't so much as reboot a computer by herself and doesn't even seem to know what a virus is, let alone why computers need to be protected from them.
Barbie infects Skipper's computer, causing Skipper to lose her homework assignment and all of her music files, which astonishes Barbie the computer expert because who could've guessed that viruses even exist, let alone lurk in the heart-shaped flash drive (seriously) Barbie wears around her neck?
And even after she learns these things, she still needs Steven and Brian's help to fix her virus problems, because that's how stupid Barbie is according to the Mattel corporation's own officially sanctioned and ostensibly pro-Barbie propaganda.
Pamela Ribon, a writer at Walt Disney animation studios, first discovered the book's awfulness while visiting a friend with two Barbie-loving young daughters.
Flip the book and you can read "Barbie: I can be an Actress," where Barbie saves the day by filling in for the princess in Skipper's school production of "Princess and the Pea." She ad-libs and smiles her way through her lines, and charms the entire audience. Standing ovation, plenty of praise. At no point did she need anybody's help. She didn't even need lines! Just standing there being Barbie was enough for everyone in attendance. See, actors? It's not that hard. Even Barbie can do it.

When you hold the book in your hands to read a story, the opposite book is upside down, facing out. So the final insult to this entire literary disaster is that when you read "Barbie: I Can Be a Computer Engineer," it appears that you are so fucking dumb, you're reading "Barbie: I Can Be an Actress" upside down.
Nicely condensed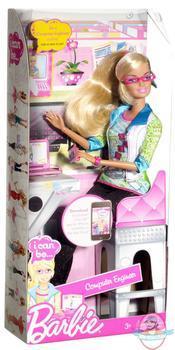 The reviewers on Amazon were no happier with the book. One man called it "generations of damaging stereotypes nicely condensed into one short children's story," and said: "While it used to take years of negative messaging to teach women and girls that they are second-class citizens in technology fields, this little gem can give you a great head start at a tender young age. As a computer scientist, and as the father of a little girl (named "Ada"), I am viscerally nauseated to encounter a children's book so utterly inappropriate in the modern era."
Though the book did collect a handful of glowing five-star reviews, as well, A woman named Misty wished she'd had access to such quality literature in her own girlhood:
WHY WHY WHY didn't I have this jem of a book before I went to school to be a software engineer!!! After almost 20 years in the field, working my behind off, I had no idea I just had to flick my long blonde locks and have Steve and Brian do all the work for me. What the heck have I been thinking all these years! I can't believe all of the long hours I have put in and all the hard work. I could have had life on easy street this whole time.

That's it. For the rest of my career I'm putting on pink glasses and having the men do the work for me and sweetly letting me take the credit! Now I can get that huge raise I have been wanting, all thanks to guys like Steve and Brian. Thank you, Barbie, thank you for showing me that it's A-OK for women to sit back and let men take care of everything. Now I can eat my bon bons in peace.
---