---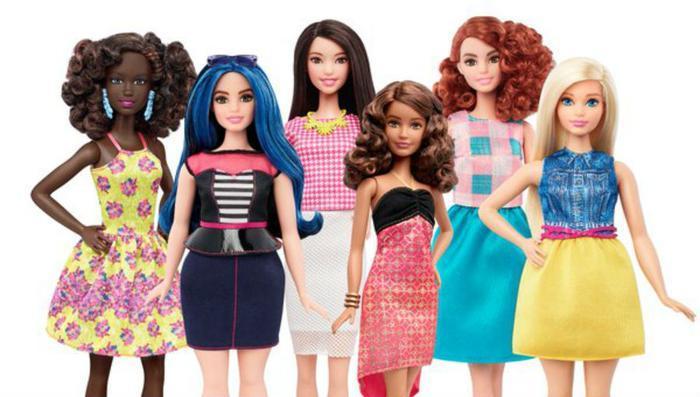 Barbie's waistline has long been the topic of controversy. Many claim the doll's unrealistic proportions set impossible standards for little girls who may aspire to look like her. Well, now, Mattel is turning the tables. They've attempted to make a Barbie that looks more like the girl holding her.
Mattel recently announced the expansion of its Fashionistas line with three new body shapes — tall, curvy, and petite — and a variety of skin tones, hair styles, and outfits.
Response to the addition of the three new body types has been overwhelmingly positive, but not without criticism. Many believe Barbie's old body type was innocuous and not something that needed to be changed. There are also those with a more pragmatic complaint: one of wardrobe.
Non-interchangeable clothing
Getting the old Barbie dressed for her next activity was easy, as she wore the same size as all the other Barbies on the bedroom floor. But Barbie is no longer a one-size-fits all gal.
"The feminist in me loves them," says Facebook user Tara Kellermeyer. "The mom in me is cursing Mattel for the inevitable shrieks from my girls that 'this outfit doesn't fit' since the clothes will no longer be interchangeable."
But while this particular side-effect may not have been premeditated, Mattel did anticipate one important byproduct of Barbie's newfound diversity: money.
Strategic business move
The implied social connotations of the re-design aren't because Mattel's heart has grown three sizes. Rather, the company seeks to make up for lost time, economically.
Sales of Mattel's Barbie dolls have taken a hit in recent years, dropping 20% between 2012 and 2014, according to TIME. Barbie lost an estimated $500 million in revenue due to Hasbro winning Elsa dolls and other Disney Princesses away from Mattel.
Barbie's new body types will capitalize on America's newly evolved beauty ideals. Waifish figures may still be en vogue on the runway, but many Hollywood icons — from Christina Hendricks to Beyonce — are ignoring size labels while promoting body acceptance.
While the addition of the new body types may simply have been a calculated business move, most agree it's a step in the right direction — and a long-awaited one at that.
"Average" is in
Marketing companies may have seen the need for more average-looking dolls when the Lammily doll was introduced in 2014 by designer Nikolay Lamm.
Lammily — who boasts typical human body proportions and minimal makeup — received an outpouring of support upon introduction. One video, which quickly went viral, showed children's reactions to the "average" looking doll.
After being handed the doll, one child after the next smiled while offering up an, "I like her."
"She looks like my sister," beamed several girls, petting Lammily's long brown hair.
In response to what Lammily might do for a job, the children envisioned her as a teacher, a swimmer, or doing "like a computer job." Among the careers imagined for Barbie were model, makeup artist, and no job at all, proving the influence of a doll's physical appearance.
In addition to more accurately representing the people who play with her, Barbie's new body types hold the possibility of introducing entirely new conversations to the world of play. 
You can pre-order the new dolls online now, before they hit shelves later this spring. 
---