---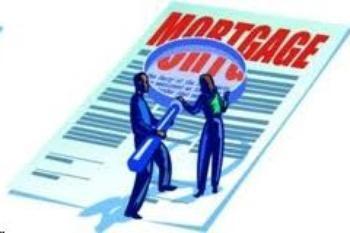 If you're married with a mortgage loan and your spouse's name isn't on it you need to fix that, right away. McClatchyDC has a horrifying story explaining why: the story of Laura Biggs, a California widow whose house is about to be foreclosed upon because the mortgage loan is in her husband's name, her husband has been dead for ten years and therefore the house is no longer his "primary" residence.
As McClatchy writer Kevin G. Hall pointed out, "Technically, though, it still is George "Kenny" Mitchell's primary residence. He resides at the home in Rialto, east of Los Angeles near San Bernardino, in an urn. His cremated remains are part of an altar that Biggs, 65, keeps in memory of the trucking-company manager. Many mementos from their marriage surround his smiling photo."
But, surely, that is a red herring; even if the late Mr. Mitchell currently "resides" at a cemetery, why would that justify foreclosing on his widow? Hall noted, "The problem of surviving spouses not being on loans is big enough that the Treasury Department, which devised a series of incentives for servicers to modify mortgages, has an entire section of a manual devoted to it."
This is not to suggest that a new widow or widower must automatically fear foreclosure unless their name is on the mortgage loan; Biggs' problem isn't with the mortgage itself so much as an attempted modification. The loan originally came from now-defunct housing-bubble inflator Countrywide Mortgage, and over the years eventually fell into the hands of an investors' group called Select Portfolio Servicing. A few years ago, after some health- and job-related problems, Biggs fell behind on her property taxes, which were then added to her mortgage balance.
But when Biggs tried to talk directly with the company, customer services representatives refused to deal with her, insisting on speaking with Mitchell, something that's impossible. The offer to roll the taxes into the loan was abruptly withdrawn, she said.

"Because my name was not on the loan, they wouldn't talk to me," Biggs said. "It always had my name on the checks. My name has been on those checks ever since we got the property. It was never an issue until last year."

Biggs tried to continue making monthly mortgage payments but the servicer refused to accept them. The mortgage became delinquent and later was placed in default, despite more than $100,000 in equity built up.
Despite having over $100,000 equity in the house, Biggs currently faces losing everything next week. She currently has a lawyer, George Bosch, working pro bono in hope of saving her house. Bosch told McClatchy: "If you have a surviving spouse, legal documents are not necessary. (Select Portfolio Servicing) didn't realize they were in California." Bosch, who did the paperwork to help Biggs seek a mortgage modification through the Home Affordable Modification Program, told McClatchy that Select Portfolio "came with a new loophole: The guy doesn't reside here."
---