---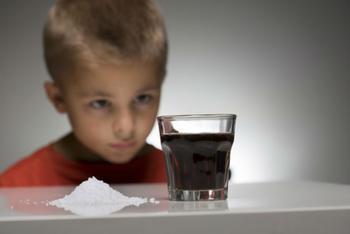 In the battle against childhood obesity, many health advocates point to the over consumption of sugar-sweetened beverages as a significant contributor. Many health advocates would like to see a warning label added to these beverages, cautioning parents.
Baltimore, Maryland, is the latest city to consider a warning to parents about the health consequences of too much sugar-sweetened drinks.
Earlier this year an online survey showed participating parents were 20% less likely to choose a sugary beverage for their children if they encountered such a health warning. The study was published in the journal Pediatrics.
The numbers break down like this:
Would choose a sugar-sweetened beverage if they didn't see a label – 60%
Would choose a sugar-sweetened beverage if they did see a label – 40%
Surprising number of parents would buy it anyway
While the results do show a significant drop in the number of parents who would choose the calorie laden beverage, it should also be noted that nearly half of the parents – after being warned that too much of the product might make their child obese – would buy the product anyway.
The study was funded by the Robert Wood Johnson Foundation (RWJF) through its Healthy Eating Research program. The researchers concluded that health warning labels may sway parents' perceptions about the healthfulness of sugar-sweetened beverages. What's less clear, however, is whether the parents would eliminate or purchase less of the product.
RWJF notes that its study is among the first to test the effectiveness of warning labels on changing behavior. Other studies of the effectiveness of providing consumers with additional health information have shown mixed results.
Other research
A case in point is the recent move by fast food restaurants to post calorie information on menus. A study last year by researchers at Arizona State University is not encouraging to those who believe information is the key to changing behavior.
The researchers surveyed McDonald's customers who, at the time, had been exposed to calorie data on menus for three years. They determined that 60% of the customers had seen the calorie information, but only 16% used the information in deciding what to order.
In other words, they might have noticed a particular burger and fries combination had nearly 1,000 calories, but they ordered it anyway, instead of the salad.
The study found that customers with higher incomes were twice as likely to notice the calorie labels and three times more likely to use them.
The author of the RWJF study, Christina Roberto, PhD, of the University of Pennsylvania, is testifying at a Baltimore City Council public hearing this week, commenting on the sweetened-beverage ordinance. 
The measure would require businesses that sell or advertise sugar-sweetened beverages to post health warning labels indicating that the drinks contribute to tooth decay, obesity, and diabetes.  
---