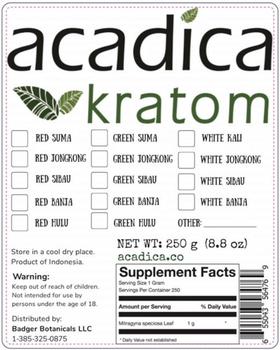 Utah-based Badger Botanicals, LLC is issuing a recall for four varieties of its kratom dietary supplements -- Green Suma, Red Suma, Green Hulu 2, and Red Hulu 2 -- over concerns that the products may have been contaminated with salmonella. 
Salmonella is an organism that can cause nausea, vomiting, diarrhea, abdominal cramping, and fever. However, symptoms such as arterial infections, endocarditis, arthritis, muscle pain, eye irritation, and urinary tract infections can develop in more serious cases; the condition can even be fatal to young children, the elderly, or those with weakened immune systems. 
The affected products were sold directly on the company's website from January 1, 2018 to April 12, 2018 in 250 gram pouches.
The U.S. Food and Drug Administration (FDA) reports that one potential illness has already been connected to this problem. The agency encourages consumers who have purchased these products to stop using them and return any unused portions. Consumers who display any symptoms of infection are also urged to contact their healthcare adviser immediately.
For more information, consumers can contact Badger Botanicals, LLC at 1-385-325-0875.