---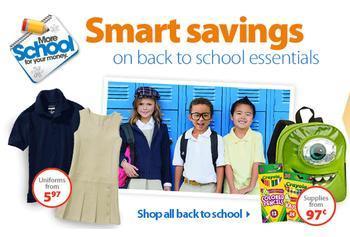 It's kind of sad, but summer is closing out pretty fast, which means kids will be going back to school before you know it. While some kids don't mind, others are moaning and groaning. But either way, both groups have at least one thing in common: They'll need a bunch of new clothes and supplies for school.
For parents, that means trying to find the best deals on everything from notebooks to sneakers -- not to mention the latest fashion items that your child will say he can't live without.
According to Sharon Banfield, director of public relations at PriceGrabber, the majority of parents will be spending quite a bit on back-to-school items this year. But if they plan and budget properly, they can save a lot in the process.
"According to PriceGrabber's first Back-to-School shopping survey, 68% plan to spend up to $500 this back-to-school shopping season," said Banfield. "With a little homework, budgeting, and creativity, shoppers can easily reduce this number and get the most for their buck this year."
Take inventory
Experts say parents should walk around their home office, kitchen, bedroom and other places that may have supplies lying around.
From there, grab your child's supply list and see if there's anything you can remove from it. In many cases you'll have a lot of the needed supplies right at home.
And when making your back-to-school list, it's important to separate the things your child will need and the things he or she will want.
This will lower your chances of buying something on impulse. And if you do decide to purchase something that isn't truly needed, be sure to buy the necessities first. Challenge yourself by trying to spend less this year than last year.
Shopping partners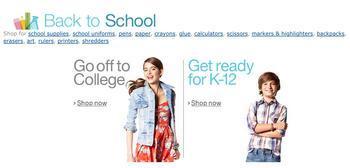 It's a good decision to leave smaller children at home when you shop for back-to-school-items, because you're likely to get distracted by all the question-asking and begging.
But, experts say it's a good idea to bring older kids. In fact, you can turn the entire shopping experience into a budgeting lesson. Plus, back-to-school shopping could be a good way for the entire family to bond.
Consumer savings expert Regina Novickis, who wasn't involved in the PriceGrabber survey, says to avoid buying trendy items right away, because before you use them, they might not be trendy anymore.
"Don't buy that name brand stuff until the kids have been in school for a couple of weeks," said Novickis in a published interview. "Because you never know that something they really liked for a while or they've seen during the summer may not be as trendy when they get back to school. So hold off on buying those items."
In addition, Novickis says you should contact your child's teacher before you go shopping. This way, you'll know what's truly needed and will be less likely to buy anything that won't be used.
Check the sales
The PriceGrabber folks say to utilize end-of-summer sales, because most of those clothes can still be worn until mid to late fall. Plus, you can layer certain pieces of summer clothes so they can be worn until it gets cold.
When you go to brick-and-mortars to shop, arm yourself with your mobile device. That way you can compare prices to see if you'll save money by shopping online.
Furthermore, experts advise buying school items in bulk. While you may spend a little more on the front end, you'll be able to use those items throughout the year and save money on the back end.
For older kids, who may need an electronic gadget or two for school, don't be afraid to buy used items. In fact, you can even rent some of these items.
"As technology is integrating into classroom, refurbished technology is a great option sometimes," advised Novickis. "People who are more tech junkies will purchase something, decide they don't need it and send it back to the manufacturer. It's practically brand new. You get a warranty on it and it's a great option."
Creative budgeting
The bottom line is be creative in your budgeting this back-to-school-season, because school is for learning, not sending your kids off with the latest, greatest and most expensive things.
Plus, there will always be something new in style, so don't go spending your money on items that your child probably won't want in a month or two.
---