---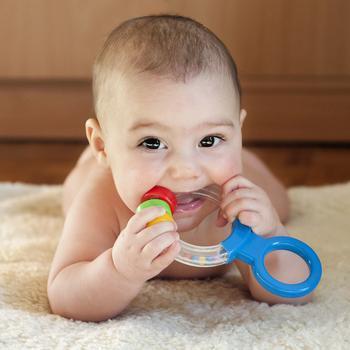 To soothe teething pain, parents often hand their little one a colorful teether to sink their sprouting teeth into. But despite being labeled "BPA-free" and "non-toxic," many baby teethers may contain low levels of BPA.
This is according to new research, published Wednesday in the Environmental Science and Technology Journal. After testing 59 plastic baby teethers, researchers from the American Chemical Society (ACS) found that all 59 released low levels of BPA and other endocrine-disruptors (EDCs).
Studies have shown that EDCs can interfere with hormones and have harmful developmental, reproductive, and neurological effects. The U.S. and other governments have banned or restricted the use of some BPA, parabens, and antimicrobials in certain baby products, such as bottles.
In the study, some teethers leached triclosan, an antimicrobial linked to liver cancer, while others contained parabens, a type of preservative linked to thyroid problems.
Current regulations
The plastics industry claims the amount of BPA used in products intended for babies and kids does not pose a health risk, but study author Kurunthachalam Kannan says recent studies have suggested that even at a nanogram or microgram level, BPA can be harmful.
"Regulation is hazy because the levels are still being debated and standards are not clearly described," Kannan told FoxNews.com.
After estimating the average use time and body weight of a 12-month-old baby, ACS researchers found that a child's exposure to BPA and other EDCs in teethers would be lower than the European standards for temporary tolerable daily intake levels.
But these regulations do not account for the accumulation of multiple EDCs, the researchers noted. Additionally, not all of the chemicals measured in the study are regulated.
The researchers say these findings could be used to develop appropriate policies to protect infants from exposure to potentially toxic chemicals found in teethers.
To soothe teething pain without teething rings, experts recommend using natural remedies for easing the pain of aching gums. Parents can give their child a frozen washcloth, a frozen carrot, or a frozen bagel or waffle to chew on. Parents can also find teethers made of wood or natural, organic cotton to use in place of plastic teethers. 
---