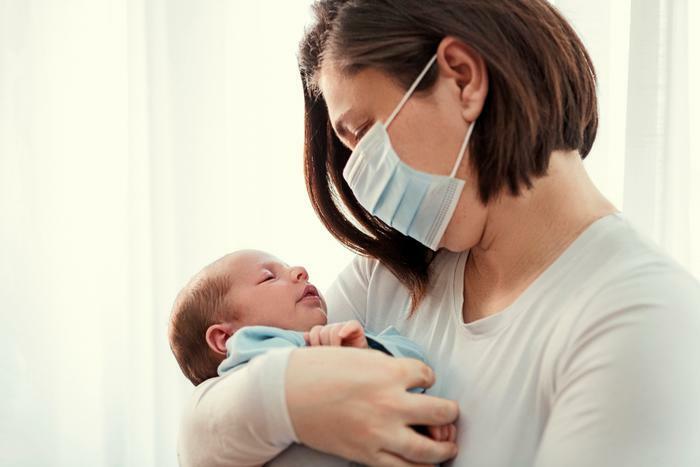 A new study conducted by researchers from Columbia University Irving Medical Center explored how the COVID-19 pandemic has affected infants' development. Their work showed that babies born during the first year of the pandemic were more likely to score lower on developmental tests. They say this is likely due to the stress that women are experiencing during the pandemic. 
"Infants born to mothers who have viral infections during pregnancy have a higher risk of neurodevelopmental deficits, so we thought we would find some changes in the neurodevelopment of babies whose mothers had COVID during pregnancy," said researcher Dr. Dani Dumitriu. 
"We were surprised to find absolutely no signal suggesting that exposure to COVID while in utero was linked to neurodevelopmental deficits. Rather, being in the womb of a mother experiencing the pandemic was associated with slightly lower scores in areas such as motor and social skills, though not in others, such as communication or problem-solving skills. The results suggest that the huge amount of stress felt by pregnant mothers during these unprecedented times may have played a role." 
How maternal stress affects infants' development
The researchers analyzed infants from over 500 women who were enrolled in the COVID-19 Mother Baby Outcomes Initiative at Columbia University Irving Medical Center. They used the Ages & Stages Questionnaire to assess the infants' neurodevelopment at six months old and compared their findings with results from the same assessment of infants born before the pandemic. 
The study showed that infants born during the COVID-19 pandemic showed lower neurodevelopment scores than infants born prior to the pandemic. This was true regardless of whether or not their mothers tested positive for COVID-19 during pregnancy. The team noted differences in social skills, gross motor skills, and fine motor skills. 
The researchers say the disparity likely exists because of the high stress levels that many women were experiencing during the pandemic. Though maternal stress wasn't measured in this study, the team believes it can contribute to poorer infant development. Luckily, they believe these findings shouldn't pose a risk to long-term developmental outcomes. 
"We want parents to know that the findings in our small study do not necessarily mean that this generation will be impaired later in life," Dr. Dumitriu said. "This is still a very early developmental stage with lots of opportunities to intervene and get these babies on the right developmental trajectory."
Moving forward, the team hopes more work is done in this area to better understand how the stress of the pandemic may impact infants' cognitive health. 
"The developmental trajectory of an infant begins before birth," said Dr. Dumitriu. "With potentially millions of infants who may have been exposed to COVID in utero, and even more mothers just living through the stress of the pandemic of the pandemic, there is a critical need to understand the neurodevelopmental effects of the pandemic on future generations."