---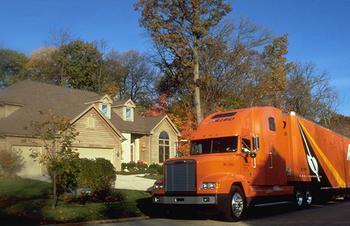 Moving is one of the most stressful things you can do. The choice of moving company can either add to the stress or lessen it a bit.
There are three major issues when you choose a mover -- the final cost, the safe delivery of all your belongings, and maintaining a schedule. Any one of the three has the potential to turn your move into a nightmare if not handled correctly.
Your move is probably going to cost more than you think. When a moving company representative visits your home and gives you a price for the move, the final cost to get your belongings delivered to your new home will almost always be higher.
Dustin, of Beaux Bridge, La., was on a budget for his move and, after doing some research, contacted All You Can Move.
Most quotes are not binding
"I was given a quote based on 2,000 pounds at 45¢ per pound and was instructed that this was the most accurate way to pay since square footage is an estimate of about $7 per square foot and obviously a box of pillows weighs less than a box of books," Dustin posted at ConsumerAffairs. "So my initial estimate was $1,170: $900 for the initial 2000 lbs, and the rest was made up of a $45 fuel charge, $75 elevator charge at my current residence and $150 stair charge at my final destination which is on the 3rd floor."
But the actual charge, he says, was 25% higher. It turns out that's not unusual. Dustin got a non-binding estimate. It was only an estimate of what the charges would be and moving company estimators, by and large, estimate low to beat the competition.
Dustin could have asked for a binding estimate, requiring the moving company estimator to tell him exactly what the move would cost. He would then have gotten a not-to-exceed figure. It's almost a certainty that number would have been higher than the non-binding estimate.
According to the Federal Motor Carrier Safety Association (FMCSA) a binding estimate must accurately describe what you are shopping and list all the services you are getting. If you requested additional services, like long carry charges, the company must bill you separately for these charges after the move. When the truck is unloaded, the moving company cannot charge you more than the binding estimate.
Naturally, a binding estimate has to be in writing and given to you before the first item of furniture goes on the truck.
Protecting property
You also want to make sure the mover you hire will be careful with your property, not losing or damaging it while moving it from your old home to your new one. Marilyn, of Port St. Lucie, Fla., reports hiring Mayflower for her move, getting assurance that she would have two trucks and four men to load it.
"One truck was sent and could not fit all the furniture," she writes. "The movers had to pack our two cars and we had to make a half a dozen trips in our cars to unload everything we had until 11 pm at night. We were promised that mattresses and fragile things would be covered. Our mattress was handled by their bare hands with no cover. Damage was done to several pieces of furniture. We were overcharged for the move and when we turned in a form on the damage to the furniture, they are refusing to fix it."
Valuable and fragile items, needless to say, are best moved yourself.
Scheduling
Scheduling is another critical consideration when making a move. In most cases the consumer must vacate one property on a specific date. When hiring a moving company you need to be sure they can accommodate your needs.
Thelma, of Beaufort, S.C., says she hired Swift Movers Van Lines to move her from Poughkeepsie, N.Y. and was given a definite date for delivery.
"I stressed the importance of a firm delivery date prior to leaving because my daughter and daughter-in-law were both requesting time off from work to help with the move," Thelma wrote.
But the trucks didn't arrive in South Carolina under several days after the promised delivery date. Thelma said another company representative told her that it was against company policy to guarantee exact delivery dates – that the person who told her they could do that was wrong. Perhaps so, but it didn't help Thelma to learn that after the fact.
Choosing a moving company should not be done lightly. As a start, talk to friends and relatives who have moved recently. Find out what companies they liked and ones to avoid.
Check the Internet. Sites like ConsumerAffairs have reviews of local and national movers and may help you avoid a stressful and costly mistake.
One final thing. Under federal law every moving company is required to give you a booklet called "Your Rights and Responsibilities When You Move," that spells out how moving companies are supposed to operate. If the moving company you are interviewing fails to give you that booklet, that should serve as a red flag.
---