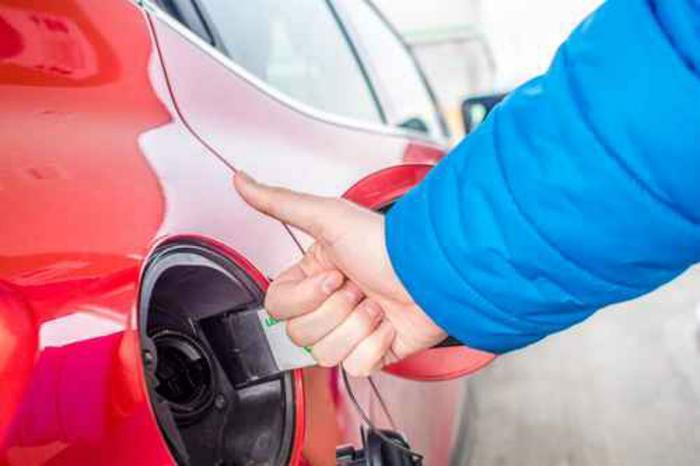 The national average price of self-serve regular, tracked daily by AAA, dropped below $2 a gallon Monday, to $1.998, for the first time since March 25, 2009.
While drivers in the southeast have been paying well below that for months, motorists in other parts of the country have seen prices fall in recent weeks but are still paying north of the $2 mark.
More than two-thirds of U.S. gas stations are now selling gas under $2 per gallon, and AAA says drivers can find at least one station selling gas for less than that price in 47 states.
The most common price nationwide is $1.899 per gallon. The national average price of gas is about 41 cents less than a year ago.
Holiday gift
"Drivers across the country are celebrating the historic return of cheaper gas prices," said Marshall Doney, AAA's president and CEO. "The lowest gas prices in nearly seven years are a holiday gift that few consumers could have imagined when gasoline was $4 a gallon."
Gas was $4 a gallon in July 2008, just before the financial crisis sent oil prices spiraling downward. By late 2009, however, the price was rising once again and consumers spent the next few years paying between $3.50 and $3.75 a gallon. It took an oil price war by Saudi Arabia, launched just over a year ago, to knock the bottom out of oil prices.
AAA estimates that lower gas prices have allowed consumers to save more than $115 billion on gasoline so far this year, which works out to more than $550 per licensed driver. The big boost to consumer spending that economists predicted, however, never materialized. The biggest impact seems to have been stronger sales of SUVs and pick-up trucks and less enthusiasm for fuel efficient vehicles.
91 million Americans on the road
However, AAA says you may see the impact on American highways this week. It predicts more than 91 million Americans will take advantage of cheaper gas prices to drive 50 miles or more during the holiday period.
The cheapest gas in the nation will be found in Missouri, at $1.77 gallon, and in Arkansas, Kansas, and South Carolina, where the statewide average is $1.78 a gallon. Only 20 states, led by Hawaii and California, have average gas prices above $2 a gallon.
Gas prices have generally followed oil prices lower. Oil prices have crashed because there is more than enough around the world to meet current demand. In addition, gas prices generally fall through early winter because people drive and use less fuel this time of year.
"We have witnessed a dramatic shift in gas prices that has saved families hundreds of dollars so far this year," said Doney. "The best news of all is that there is room for prices to drop even more in the coming weeks."
But oil isn't the only factor influencing the price consumers pay at the pump. In late winter, when oil refineries reduce output to perform maintenance and begin switching to summer grades of fuel, prices generally go up again. Chances are, however, in 2016 they won't go up by a lot.