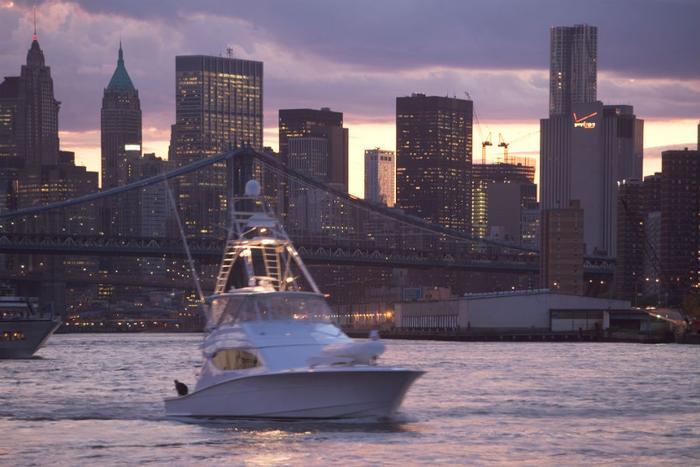 New York is one of America's most exciting cities, especially during the autumn months.
Most travelers tend to have a list of "must-see" sights when making a visit -- like the Empire State Building and the Statue of Liberty -- but the city also hosts hundreds of off-beat, out-of-the-way attractions that can increase the pleasure of an autumn visit.
Historic train station
While a typical New York subway station probably isn't anyone's idea of a tourist attraction, City Hall station -- on the original Interborough Rapid Transit Company (IRT) track -- is a journey back in time.
In its day, City Hall station featured lavish architectural details that were so common in the early 20th century. It had vaulted ceilings and skylights and was lit by elaborate chandeliers.
However, the station was never very popular with commuters and eventually closed in 1945. Today, the public can catch a glimpse of it as they ride a train that passes through without stopping.
If you're a fanatic about seeing old train stations, you might consider becoming a member of the New York City Transit Museum in advance of your visit. Members are allowed to take periodic tours through the Victorian era station.
Crumbling ruins
Europe is known for the crumbling ruins of old castles, but you don't have to cross the Atlantic to have that experience. On the southern tip of Roosevelt Island stands the Roosevelt Island Smallpox Hospital, or what's left of it.
Designed in the Gothic style in the mid 19th century, the hospital housed smallpox patients in one of the city's most isolated regions. It operated in that capacity throughout the mid-1800s before being converted to other uses. By the mid-20th century, the building had fallen into disrepair and was abandoned.
The ruins were declared a historic landmark in 1975 and efforts were made to preserve it, but the site was allowed to remain in a ruined state. Today, you can view the site from behind a fence but can't go inside because of its fragile condition. You can get there by taking the F train to Roosevelt Island and making your way to E Road.
Graceful estates
On the other end of the spectrum, the Bartow-Pell Mansion Museum reminds visitors that New York City isn't all skyscrapers. Travelers can view the lush, graceful estate in the northern section of Pelham Bay Park in the Bronx.
Thomas Pell obtained the property in the 1600s when he signed a treaty with the Siwanoy Indians and got what is now the Bronx in return. The majestic house that is home to the museum was built between 1836 and 1842 and opened as a museum in 1946, which offers tours of the buildings and grounds.
A Harlem gem
If you're a fan of popular music and early show business, a visit to Harlem's Apollo Theater should be on your list. It opened in 1914 as a whites-only entertainment venue but closed its doors two decades later. However, it got a new life in 1934 when it became the premier showcase for African American talent.
During the 1940s, the Apollo hosted legendary musicians such as Duke Ellington, Dizzy Gillespie, Count Basie, and Chick Webb. Today, the venue draws an increasing number of tourists who can learn about its history and the struggles of African Americans in the performing arts.
Dinner and a stroll
A trip to New York wouldn't be complete without dining at one of the city's great restaurants. While there are many famous eateries, there are some excellent spots that are far less well-known.
For example, you might try ABC Carpet & Home, a well-reviewed restaurant located in a home furnishings store. In addition to a great meal, diners are encouraged to shop around afterward.
To cap off your Autumn visit to the Big Apple, consider a stroll through Central Park, which is beautiful in the fall. Check out the stunning Autumn footage below.