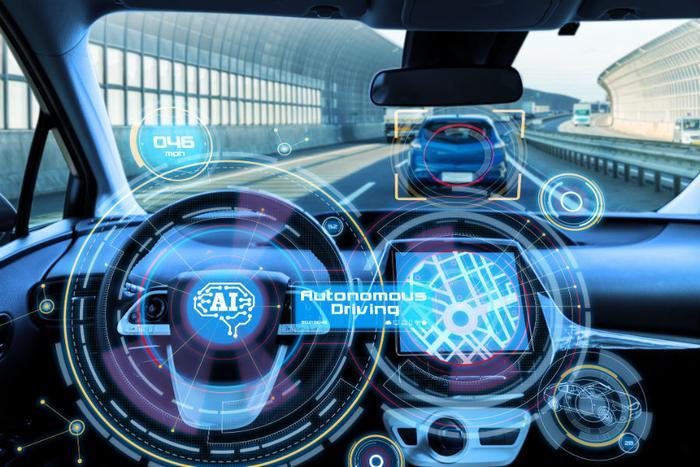 Autonomous vehicles hit a speed bump in 2018, but research continues on making them safer and more plentiful on American streets. Many of the latest developments are on display at the Consumer Electronics Show (CES) in Las Vegas.
Hyundai MOBIS is demonstrating a lighting communication system for autonomous vehicles to inform other drivers and nearby pedestrians when a vehicle is in self-driving mode. It uses LED, digital boards, headlamp projection, and sound to communicate with nearby pedestrians and vehicles during various driving scenarios.
Its development follows last year's fatal accident in Tempe, Ariz., when a self-driving Uber struck and killed a pedestrian who was walking her bicycle across a highway. The company says self-driving cars using the communication lighting system can detect a pedestrian from more than 450 feet away.
Upon detection, headlamps begin projecting a bright red warning symbol indicating that it is unsafe to move across the self-driving vehicle. When the vehicle reaches a complete stop, headlamps project a crosswalk symbol onto the ground to indicate to nearby pedestrians that it is safe to proceed.
Crowdsourcing maps
Mobileye, a division on Intel, is displaying its latest developments designed to make autonomous cars safer. They include Road Experience Management, a technology to crowdsource the maps required for safe autonomous vehicle travel.
The company also continues to refine its Responsibility-Sensitive Safety system, which guides an autonomous vehicle's decision-making.
Meanwhile, autonomous vehicles are still being put to work. Udelv, a California-based autonomous vehicle firm, announced at CES that it is teaming with Walmart to provide the retailer with self-driving vans to make deliveries.
Self-driving delivery van
Coinciding with the announcement, Udelv unveiled a new delivery vehicle, the "Newton." The vehicle will be deployed in a pilot project at a Walmart store in Surprise, Ariz.
The vehicle will be able to carry orders for more than 30 Walmart customers and is described as a Level 4 autonomous vehicle, meaning it can operate without a human behind the wheel.
In a blog post, Tom Ward, senior vice president, Digital Operations, Walmart U.S., said the Udelv vans will be customized to deliver fresh groceries.