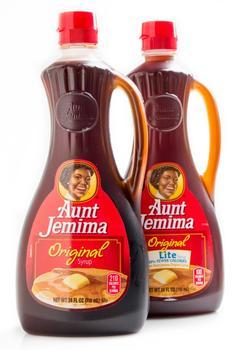 In the midst of the "Black lives matter" movement, Quaker Oats has announced that it will be doing away with its Aunt Jemima brand. 
"We recognize Aunt Jemima's origins are based on a racial stereotype," Quaker Oats said in a press release. "As we work to make progress toward racial equality through several initiatives, we also must take a hard look at our portfolio of brands and ensure they reflect our values and meet our consumers' expectations."
Quaker said consumers will see new packaging in the fall of 2020, and a new name for the foods will be announced at a later date. The Aunt Jemima brand will also donate at least $5 million over the next five years "to create meaningful, ongoing support and engagement in the Black community."
Racist origins 
In a 2015 opinion piece published in the New York Times, Cornell University professor Riché Richardson said the Aunt Jemima logo is "very much linked to Southern racism." The inspiration for the brand's name came from a minstrel song, "Old Aunt Jemima," in which white actors in blackface mocked and ridiculed black people.
The logo was based on the stereotype of the "mammy ... a devoted and submissive servant who eagerly nurtured the children of her white master and mistress while neglecting her own," Richardson wrote.
Quaker Oats said that although "work has been done over the years" to distance the brand from its racist roots, that work ultimately fell short. 
"We realize those changes are not enough," Quaker Oats North America chief marketing officer Kristin Kroepfl said in the statement.